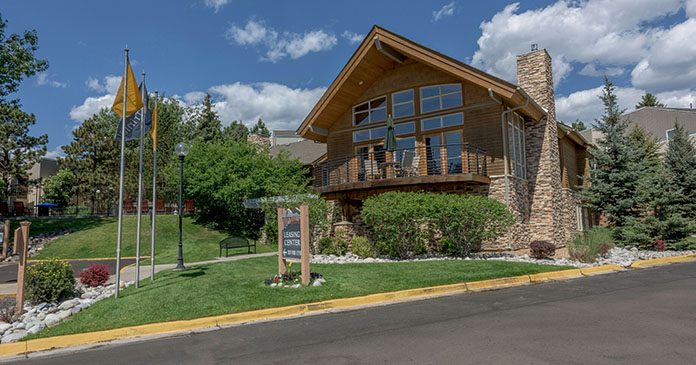 Gelt, Inc., a Los Angeles-based real estate investment and asset management firm, is pleased to announce the $92 million sale of Westhills Apartment Homes, a 400-unit apartment property located at 453 Van Gordon Street in Lakewood, CO, a submarket of Denver. Gelt was represented by David Martin, Pamela Koster and Brian Mooney of JLL in the transaction.
Westhills is a garden-style apartment community with a park-like feel in the thriving submarket of Lakewood, which provides a variety of local economic drivers; a strong number of retail options; and a high quality of life. Local employers include The Denver Federal Center, St. Anthony's Medical Center, Lakewood Technology Center, Red Rocks Community College, and the Colorado Mills Mall. Additionally, the property is walking distance to the Federal Center Light Rail Station which allows for a convenient commute to downtown Denver.
Built in 1972 and situated on 16.22 acres, the 27-building property offers two studio units, 108 one-bedroom units, and 290 two-bedroom units. Amenities include two outdoor swimming pools, a fitness center, basketball court, dog park, playground, and a clubhouse with a kitchen and a lounge area with WiFi. Westhills is located in the Union Blvd/Federal Center area, which is the largest employment center in Lakewood and is just a 15-minute drive to downtown Denver.
"When we identified Westhills for acquisition in 2016, we noted a well-located value-add opportunity in the thriving Lakewood submarket of Denver," said Jeff Harris, Partner with Gelt. "Over a three-year hold period, we successfully executed on our business plan of upgrading select interiors and improving the amenity set."
Gelt has invested approximately $11 million on a strategic renovation program for the asset including significant interior upgrades to 26 percent of the units (the previous owners had made upgrades to 33 percent); new siding, roofs and asphalt; clubhouse upgrades; dog park revamp, BBQ and fire pit additions; and gym upgrades, among other improvements.
"Denver is a hotbed for growth in a number of industries including technology," said Noah Nudell, Vice President of Asset Management with Gelt. "The region continues to attract business as well as a young workforce seeking convenient, affordable, and amenity-rich apartment communities near where they work."
He noted that in May 2019, Gelt acquired Cedar Run Apartments in Denver for $62 million; and acquired Timber Lodge, a 390-unit apartment community in Thornton, CO this past week for $61 million. All told, the firm currently owns 2,000 units in the Denver area across five communities.
Keith Wasserman, Co-Founder and Partner with Gelt added, "Lakewood, is a highly desirable location based on its proximity and access to downtown Denver on one side and the mountains on the other. The city offers a plethora of retail, jobs, and entertainment at a price that is more affordable than similar product in the downtown Denver area. We are big fans of Lakewood for these reasons and own and manage two beautiful, newer assets down the street from Westhills—Ascend at Red Rocks and Elevate at Red Rocks."
"With the capital we secured in the sale of Westhills, we are seeking to reinvest in the region as well as other key employment nodes throughout the nation," noted Danny Orland, Director of Investments at Gelt. Orland and Josh Satin, Director of Acquisitions, will lead the initiative to identify Gelt's next apartment asset acquisition.
---
About Gelt, Inc.
Gelt Inc. is a regional real estate investment and asset management company that seeks to acquire properties in strategic markets in the Western U.S. Since the company's inception in 2008, Gelt has acquired more than 10,300 apartment units, RV and mobile home sites, self-storage units and apartment units in development valued in excess of $1.56 billion. The firm's philosophy is to be a prudent steward for its investment capital, to invest wisely, with confidence and intelligence in emerging, constrained markets. Gelt seeks appropriate risk adjusted returns while achieving income from current cash flow and appreciation through superior performance of its assets.
Gelt consists of a team of real estate professionals that possess a wealth of knowledge and expertise in law, real estate, finance, property and asset management, and construction.
Gelt's affiliated companies include Domuso.com and Gelt Venture Capital. Gelt developed Domuso.com, the first financing-as-a-service resident portal for the $540 billion rental payment industry.  Domuso offers online certified and financing options for move-in payments, one-time rent payments, debt payments, refunds, and late payments.  The company developed its own proprietary risk scoring model to offer point-of-sale financing utilizing rental application data, property operational data, and historical payment history. Gelt Venture Capital is a seed-stage venture capital firm investing in companies capable of making a large global impact. We believe automation, mobility, robotics, artificial intelligence, and space tech form the fundamental technology layer are transforming our world and we focus on applications of these foundational technologies.
The firm strives to stay on top of industry trends and is always on the lookout for new technologies that simplify life for its leasing agents and help its properties run smoothly.