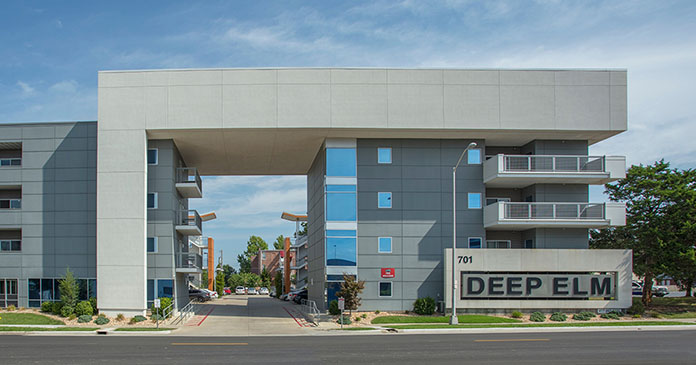 JLL announced today that it has closed the $17.7 million sale and $12.95 million in acquisition financing for a three-property student housing portfolio totaling 294 beds steps from Missouri State University in Springfield, Missouri.
JLL marketed the portfolio exclusively on behalf of the seller, a joint venture between Miller Commerce and O'Reilly Development Company, LLC. An undisclosed buyer purchased the offering and JLL worked on their behalf to secure three fixed-rate Fannie Mae acquisition loans totaling $12.95 million. The loan will be serviced by Jones Lang LaSalle Multifamily, LLC, a Fannie Mae DUS lender.
The three properties in the portfolio are Deep Elm, a 39-unit/116-bed property located at 701 E. Elm Street; The Jefferson, a 30-unit/86-bed property located at 835 S. Jefferson Avenue; and The Q'ube, 29-unit/92-bed located at 634 E. Bear Boulevard. The portfolio is 98% occupied overall and features an average distance to campus of 0.1 miles.
The JLL Capital Markets investment advisory team representing the seller included Directors Scott Clifton and Stewart Hayes and Senior Managing Director Danny Kaufman.
JLL's Capital Markets debt placement representing the new owner was led by Managing Director Matthew Schoenfeldt and Director Daniel Kearns.
JLL Capital Markets is a full-service global provider of capital solutions for real estate investors and occupiers. The firm's in-depth local market and global investor knowledge delivers the best-in-class solutions for clients—whether investment advisory, debt placement, equity placement or a recapitalization. The firm has more than 3,700 Capital Markets specialists worldwide with offices in nearly 50 countries.
Deal secured by Holliday Fenoglio Fowler LP ("HFF") prior to being acquired by JLL on July 1, 2019. Co-brokerage services provided by Jones Lang LaSalle Americas, Inc. Agency/GSE lending and loan servicing are performed by Jones Lang LaSalle Multifamily, LLC, a wholly owned indirect subsidiary of Jones Lang LaSalle Incorporated. Loans made or arranged in California are pursuant to a California Financing Law license.