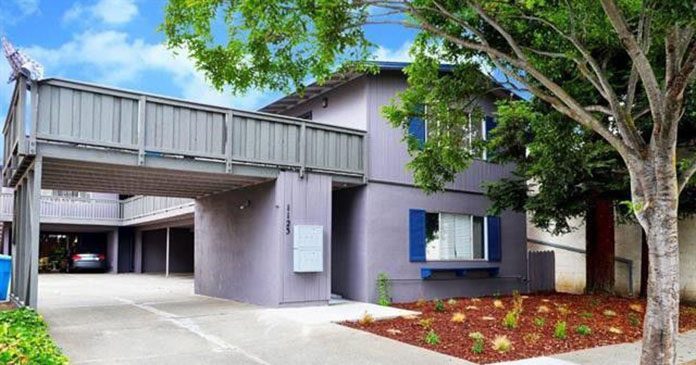 Levin Johnston of Marcus and Millichap, one of the top multifamily brokerage teams in the U.S. specializing in wealth management through commercial real estate investments, recently directed the sale of a mixed-use property featuring three retail suites and seven multifamily units in San Francisco, California and the acquisition of Broadway Apartments, an eight-unit multifamily property in Burlingame, California, on behalf of a single client in a 1031 exchange transaction, according to Adam Levin, Executive Managing Director of Levin Johnston.
With these trades, Levin Johnston has successfully directed 1031 exchanges with a total year-to-date transaction volume of more than $360 million, all in the San Francisco Bay Area, notes Levin Johnston's Senior Managing Director, Robert Johnston.
"With this 1031 exchange, we were able to help the buyer of Broadway Apartments trade out of a multifamily and retail property, subject to San Francisco's tight rent regulations, and into an apartment community in a highly affluent submarket that offers significant upside potential," says Johnston. "Based on our deep and long-standing relationships with the parties involved, we strategically negotiated a satisfying close of the acquisition of Broadway Apartments, within just six weeks of the sale of the mixed-use asset."
Burlingame is located in the heart of Silicon Valley and known for its high quality of living. Broadway Apartments offers residents close commutes to some of the nation's top tech employers including Oracle, GoPro, EA, Facebook, Cisco Systems, Visa, Sony, and many others.
The property is also in short walking distance of both a Caltrain station and a free trolley service that provides transportation to and from nearby Downtown Burlingame's high-end shopping, dining, and entertainment options.
Broadway Apartments features eight studio apartments with a one-to-one parking ratio.
The mixed-use asset is located at 310 Otsego Avenue in San Francisco, California and sold for a total purchase price of $2.075 million. Broadway Apartments sold for $3.525 million and is located at 1123 Chula Vista Avenue in Burlingame, California. Levin Johnston also represented the seller of Broadway Apartments.
Additional 1031 exchange transactions completed by Levin Johnston this year include:
The $40 million acquisition of 926 Woodside and the sale of four multifamily communities with a combined value of $31.875 million:

131 Elm Street, a 20-unit multifamily property situated in San Mateo, California.
Delano Apartments, a fully upgraded 35-unit multifamily community in San Jose, California.
560 Charter Street, a 15-unit apartment complex located in the mid-peninsula city of Redwood City, California.
1416 Floribunda Avenue, a nine-unit apartment building situated in Burlingame, California.

The $22.5 million sale of Woodgate Apartments in Mountain View, California and $6.1 million acquisition of a single-tenant office building in Redwood City, California
The $3.3 million sale of Somerset Suites in Castro Valley, California and $9.03 million acquisition of Woodside South in Redwood City, California
The $10 million sale of a multifamily community in Redwood City, California and $13.5 million acquisition of a medical office building in San Jose, California
These deals demonstrate the popularity of 1031 exchanges for properties in the Bay Area, according to Levin.
"These transactions are a tried-and-true method for private investors to build and preserve wealth through the real estate market," says Levin. "The number and magnitude of the 1031 exchanges we've completed within the Bay Area market this year are a testament to the strength and performance of assets in this highly desirable market, as well as our ability to identify opportunities and exceed the expectations of our investor clients when completing the exchanges."
Levin Johnston has completed over $540 million in sales in 2019 to date, demonstrating continued health in the commercial real estate market in this region.