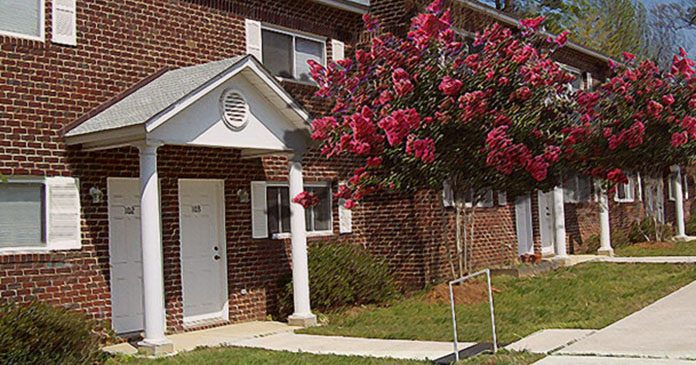 Multifamily investment firm Magma Equities has made its third investment in the Raleigh-Durham MSA this year, with the off-market acquisition of a 199-unit garden style apartment community in downtown Raleigh, NC.
University Apartments is located at 700 Ryan Court at the southern edge of North Carolina State University. The two- three- and four-bedroom floorplans are housed in 40 townhouse style residential buildings on a low density 22.5-acre parcel. Also located on the site are two single-family homes. Community amenities include a swimming pool, leasing office, basketball court and picnic area.
The property, which has been owned by the family of the original developer since it was constructed in 1960, has been expanded in phases by various members of the family over the next four decades. As a result, the property lacks a consistent architectural look and feel.  The final phase was completed in 2003. Additionally, the interiors of many of the units are in their original condition.
The property is located on one of the last developable parcels within the City of Raleigh's Avent Ferry Corridor Redevelopment Plan. According to the plan, the site has been reclassified for higher density to meet the demand for quality housing for both students and families, according to Magma Equities Managing Partner Ryan Hall.
"The property plays an integral role in the City's overall plan to enhance livability in the area by improving and increasing the variety of housing options for students and working families," said Magma Equities Managing Partner Ryan Hall. "We are working closely with the City to help them meet that goal."
Magma Equities will immediately undertake a multimillion-dollar capital improvement program that will include a complete renovation of all unit interiors as well as a comprehensive upgrade of all building exteriors and common areas to create a modern, cohesive park-like community. The firm is also considering a variety of options to redevelop the existing site as medium density student housing.
Since entering the Raleigh/Durham multifamily market in February 2019, Magma Equities and its capital partners have invested more than $60 million in the region, building a portfolio of more than 550 units.
Magma Equities was represented by Deaton Investment Real Estate, Inc.