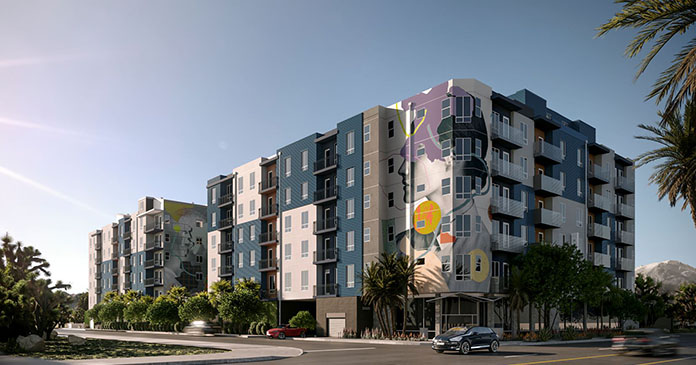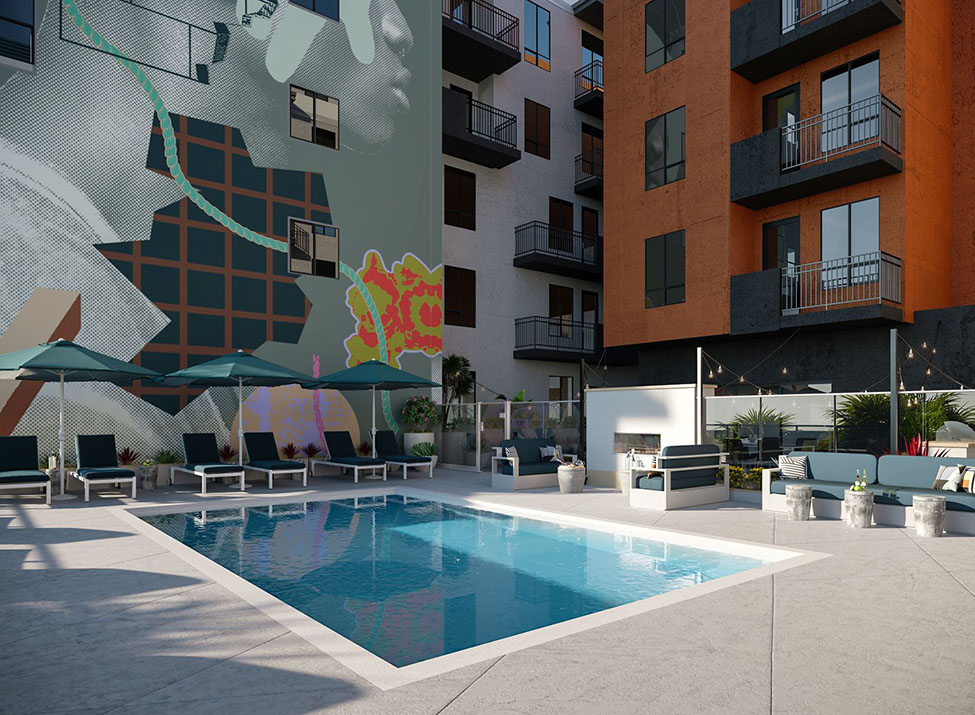 Cityview, a premier urban multifamily investment management and development firm, today announced the sale of Mira, a 174-unit multifamily community in the San Fernando Valley Region of Los Angeles. An opportunity zone deal, Cityview sold the Warner Center apartment community for $70.5 million to Virtu Investments, LLC.
"We believe this is one of the first opportunity zone sales of its kind, which is very exciting for Cityview and the buyer," said Sean Burton, CEO of Cityview. "While it is unusual that we would sell a property prior to completion, the timing of the sale at this stage of construction provides the buyer an opportunity to take full advantage of the opportunity zone program in an area that is experiencing high demand for new housing."
Consisting of studios, one-bedroom and two-bedroom units, the community features five stories of apartments over a podium, with subterranean and at-grade parking. Amenities include a resort-style pool with a spa and cabanas, state-of-the-art gym with Peloton bikes and yoga studio, outdoor terraces, a virtual reality room, Zen-inspired meditation spaces, game and screening rooms and co-working spaces. A five-story mural of a woman's profile will serve as a focal point for the property's exterior, while a complementary mural lines the poolside.
Mira's outdoor green space features a putting green, garden, stretch and workout space, seating and gathering areas, BBQs and a lounge with a fireplace. Designed to qualify for LEED Silver certification, a 35,000-gallon rainwater harvesting system captures all onsite rainwater and reuses it to irrigate onsite landscaping.
"Mira couples contemporary design with deluxe amenities to bring a modern, metro oasis to Warner Center," added Burton. "The area has experienced significant growth in recent years, and Cityview is proud to help support the increased need for housing and take part in its revitalization with the addition of Mira."
Located at 21425 Vanowen St., Cityview originally acquired the site in March 2016. The developer partnered with WPIC Construction LLC, Ken Stockton Architects, Togawa Smith Martin, Inc. and Nadia Geller Designs on the construction of the project, which is expected to complete by the end of the year.
"We are excited to be able to make a low-risk, long-term investment in such a promising Qualified Opportunity Zone," said Michael Green, Virtu Investments Managing Partner. "It's especially gratifying to be able to provide residents of Warner Center a truly premium apartment community, with convenient access to excellent public transportation, at rent rates that are significantly more affordable than most commuter suburbs of Los Angeles."
In the heart of one of Los Angeles' fastest-growing communities, Warner Center, Mira is within walking distance of a multitude of dining, entertainment and shopping offerings.
Eastdil Secured's Joseph Smolen and Mark Peterson represented Cityview in the transaction.