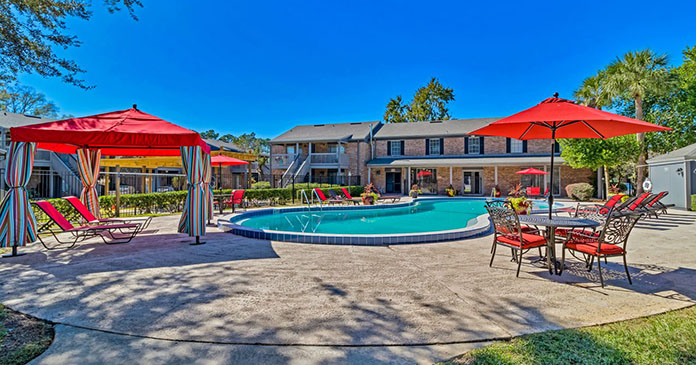 Newmark Knight Frank Multifamily announces the $16,200,000 sale and financing of The Palms at 2800 (fka Peppertree Lane Apartments), a 168-unit community located in Jacksonville, FL. Director John Rutherford represented the seller Carter Multifamily in the sale to Quad Property Group.
Newmark Knight Frank Executive Managing Director Matthew Williams, Associate Director Kyle Schlitt and Assistant Vice President James Maynard provided the financing of a $11,198,000 Fannie Mae loan for Quad Property Group. Schlitt said "We were pleased to work with Quad Property Group to secure the financing for The Palms at 2800. The interest only component allows the borrower to invest additional capital into property and implement their value-add strategy."
According to Rutherford, "The Palms at 2800 is a premier investment property in the Arlington/Southside submarket of Jacksonville, FL. With well-thought-out capital expenditure already deployed into the property, there is a clear and proven demand for an upscale rental in the given submarket. With direct access to Downtown and brand-new retail construction underway within two blocks, The Palms at 2800 should continue to prove out the submarket demand for continued value-add investment."
Constructed in 1971, the community features spacious 1 and 2-bedroom townhome units. Amenities include two large pools, a beautiful clubhouse, fitness center and more.