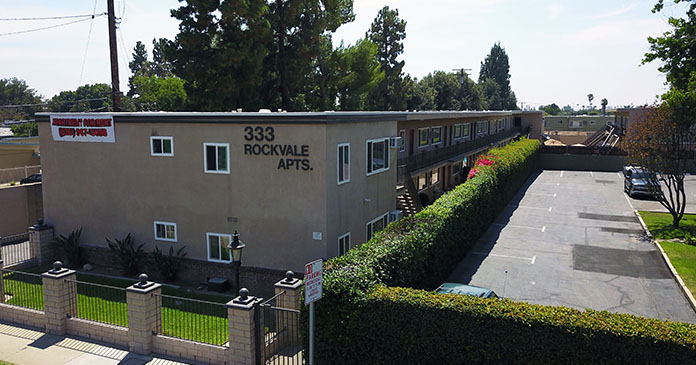 Avison Young announced today the $7.5 million sale of Rockvale Apartments, a 34-unit, multifamily property located at 333 N. Rockvale Avenue in Azusa, CA (Los Angeles county).
Avison Young's Peter Hauser, Matt Hauser and Masa Ito in the company's Irvine, CA office, represented the seller, a private company with offices in Covina, as well as the buyer, a private investor group-based Arcadia. The cap rate was 4.3 percent and the price per unit was $220,588.
Built in 1960 and situated on .8 acres of land, the property is a two-story garden-style design, consisting of 19 one-bedroom units, 14 two-bedroom units and one three-bedroom unit. Amenities include a large pool area and on-site laundry facilities.
"This property has been well-maintained, but offers the new ownership the opportunity to upgrade unit interiors with modern finishes and features in order to capitalize on market rents under the new rent control guidelines," said Peter Hauser. "The City of Azusa has been seeing an increasing amount of investor interest lately as it offers a more economical residential alternative to other areas within L.A."
This sale marks the third apartment property this Avison Young team has sold over the past year in the City of Azusa. In November 2019, the team completed the $16.76 million portfolio sale of The Riviera and Rainbow Gardens in Azusa. The two nearby apartment properties total 72 units and were also constructed in the early 1960s.
Over the past five years, Azusa has been the fastest-growing city in the San Gabriel Valley with 6.6 percent population growth during that period. The area has also seen a significant amount of capital infusion with new planned developments in various stages of construction in all property sectors.