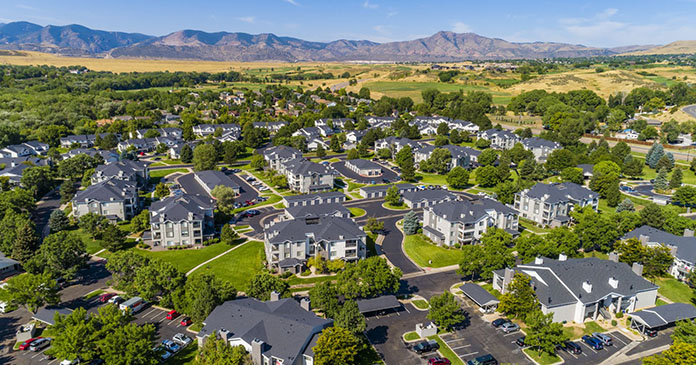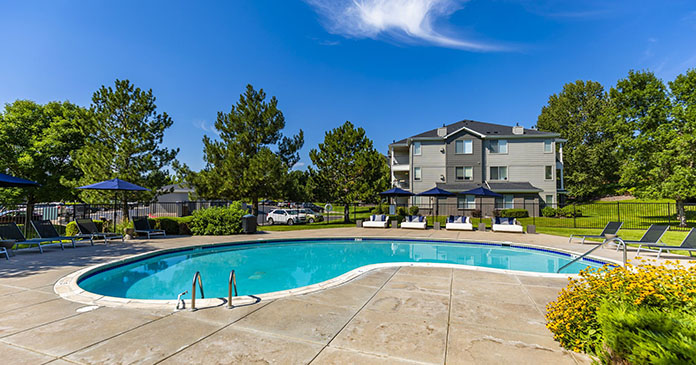 Gelt, Inc., a Los Angeles-based real estate investment and asset management firm, is pleased to announce it has significantly expanded its Denver region apartment portfolio with the $145.5 million acquisition of Kallisto at Bear Creek. Located at 2605 S. Miller Drive in the Bear Creek area of Lakewood, CO, one of Denver's most sought-after western suburbs, the asset includes 472 units.
With this latest acquisition, Gelt now owns nearly 2,500 units in six communities in the Denver metro area.
"Gelt has been attracted to the Denver market because the Millennial population has grown four times the national average, and job growth has more than doubled the national average. At 27 percent, we also like the relatively affordable rent to income ratio when compared to other Western cities," said Josh Satin, Director of Acquisitions with Gelt. "This year, we are continuing to pursue additional assets offering a value-add upside in this region."
Built in two phases in 1987 and 1996, Kallisto at Bear Creek is situated on just over 38 acres and includes 51 two- and three-story buildings. The majority of the units consist of one- and two-bedrooms with a mix of traditional flats and townhome floorplans. The property offers a number of on-site amenities including a community garden, tennis court, two swimming pools, hot tub, 31 acres of landscaped open spaces, BBQ areas, clubhouse, business center, dog park and fitness center, among others. The units feature private balconies or porches, wood and gas fireplaces, washer/dryer, walk-in closets, and extra storage.
Gelt is planning on investing $3.5 million in capital improvements over the next four years.
"The seller had executed a number of extensive improvements to the exterior and common areas as well as about 25 percent of the interior units," said Danny Orland, Director of Investments with Gelt. "Our business plan is to focus on completing an interior renovation of the remaining 75 percent of the units by installing vinyl flooring, stainless steel appliances, quartz countertops, new cabinet faces and hardware, tile backsplash, and ceiling fans. Ultimately, Gelt will provide residents with a well-managed, upgraded, and attractive rental community that enhances their overall quality of life."
Kallisto at Bear Creek is located in the heart of the highly affluent Bear Creek section of Lakewood, CO. The combination of the area's suburban setting, proximity to outdoor recreation, and excellent schools are all key factors for renter desirability and demand. Additionally, the asset is located within a convenient commute to many of Denver's largest employment centers, including the Denver Federal Center, St. Anthony Hospital, and Lockheed Martin. It is also a 20-minute drive to a diverse employee base of 400,000. The asset is well-located near several prime retail destinations, including Belmar and Southwest Plaza Mall, and within a three-mile radius of the asset, there are more than 3.4 million square feet of retail, dining and entertainment amenities.
Gelt's Kallisto buy was the result of an upleg in a 1031 exchange with the recent sale of three assets including the $62.5 million sale of Monterra Ridge Apartments in Los Angeles County; the $92 million sale of Westhills Apartment Homes, a 400-unit apartment property in Lakewood; and the $9.15 million sale of Y Rancho Mobile Home Park, a 113 space mobile home park in Reno, NV.
JLL's Jordan Robbins, David Martin and Pamela Koster represented Gelt, as well as the seller, Holland Partner Group, in the transaction.