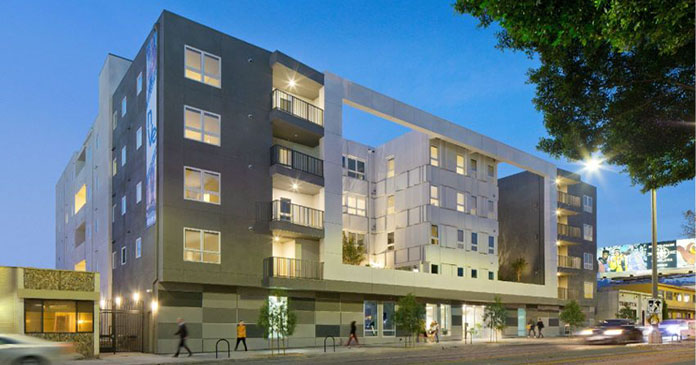 Institutional Property Advisors (IPA), a division of Marcus & Millichap, announced the sale of nVe at Fairfax, a luxury boutique multifamily building in Los Angeles. The asset sold for $36 million, which equates to $571,429 per unit inclusive of the 6 affordable units, or $631,157 per market-rate unit.
"The property is one of only five 50-plus unit assets delivered within a one-mile radius since 2000 and is just the third new multifamily asset to trade during that same timeframe," said Greg Harris, IPA executive director. Harris and IPA senior directors Kevin Green and Joseph Grabiec represented the seller, Micropolitan LLC and procured the buyer, a private investor.
The property is 300 feet from Melrose Avenue between Melrose/Fairfax and West Hollywood. Residents have easy access to many of Los Angeles' major employment hubs, including Hollywood, Mid-Wilshire/Miracle Mile, and Beverly Hills/Century City. There is nearly 225 million square feet of office space and many prominent employers across a wide variety of industries, including entertainment, professional services, tech, and healthcare within a 30-minute drive. "A key driver of the West Hollywood/Fairfax rental market is the abundance of high-paying jobs created by entertainment, media, and technology companies such as Netflix, HBO, and Viacom," commented Green. "nVe at Fairfax is perfectly situated to benefit from this economic growth as thousands of these new jobs are within walking distance or a short drive from the community."
Built in 2018 by Micropolitan, the state-of-the-art, five-story building offers panoramic views of the Hollywood sign, the Downtown Los Angeles skyline, Century City and Beverly Hills. Among the many community amenities are a club lounge, a Zen garden and a backyard lounge. "The tasteful design caters to the most discerning renter clientele," added Harris. "As always, it was a pleasure working with Larry Kruger and his team at Micropolitan. Their expert craftsmanship and execution made the sale process seamless."
"Located between two of the most desirable single-family home neighborhoods in Los Angeles County, average home prices in the vicinity of nVe at Fairfax are in the $2.3 million range, which makes homeownership unattainable for most of the population," noted Grabiec.