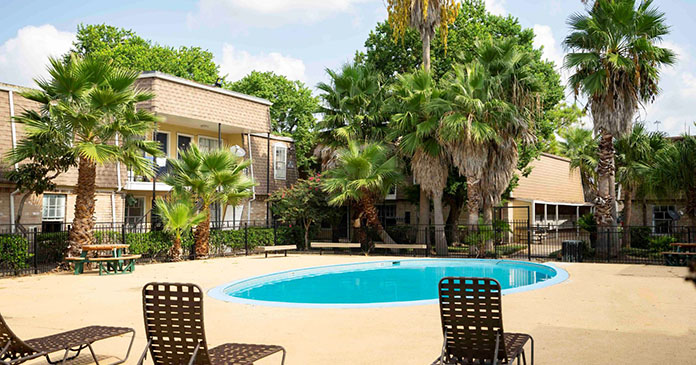 Co-founders and principals Matt Wilson and Jack Franco of Newport Real Estate Partners, LLC, a newly launched real estate firm based in Houston that is focused on the acquisition and repositioning of value-add multifamily properties, announced today they have completed the firm's first acquisition. The property, which is called The Fountains at the Bayou, is a 460-unit apartment community in Houston, TX. It was acquired off-market from the seller, Houston-based Nitya Capital.
Seasoned real estate investors and operators, Wilson and Franco bring a depth of experience with value-add multifamily projects across the U.S. totaling in excess of 8,000 units. With a cumulative 20 years in the industry and more than $700 million in apartment acquisitions and repositioning projects over the past decade, they have a proven track record, creating value for their investors which include a growing base of private equity sources, family offices, and individuals.
"After establishing Newport Real Estate Partners in 2019, we are pleased to hit our first major milestone with the acquisition of this sizable Houston apartment asset," said Franco. "We liked its location in a growing south submarket of Houston, a thriving city that is home to the headquarters of SpaceX and NASA, among other major employers."
Wilson added, "This property presented a host of management and physical improvement opportunities which fit Newport's investment philosophy. We are looking forward to making this property desirable for its current and future residents."
Built in 1969, the 31-building property is situated on eight acres at 11810 Algonquin Drive in Houston. It features a clubhouse, swimming pool, and playground areas. It is near downtown Houston, a few miles from the rapidly expanding Port of Houston, and is one mile from the expanded Hobby International Airport.
Newport's business plan across a 24-month period is to create a resident-centric community by implementing Newport's stringent management and maintenance standards. Additionally, a major renovation is planned for the leasing office, enhancing the landscaping and community areas, repairing deferred maintenance, and providing new signage and community branding, among other updates and enhancements. Finally, the asset will be renamed Valencia Grove Apartments.
Over the next 24 months, Newport is seeking to invest approximately $150 million in apartment assets ranging from $15 million to $40 million in markets with high job growth, including Houston, Austin, San Antonio, and Corpus Christi, as well as Tampa and Orlando.
"Our investment philosophy centers around speed of execution and self-managing all aspects of our business plans," said Wilson. "By providing superior customer service to our residents from the top down and implementing the latest cutting-edge technology into our platform, Newport provides velocity-driven returns that far exceed other traditional third-party management models. We are looking forward to continued growth over the next decade, and building many new relationships along the way."