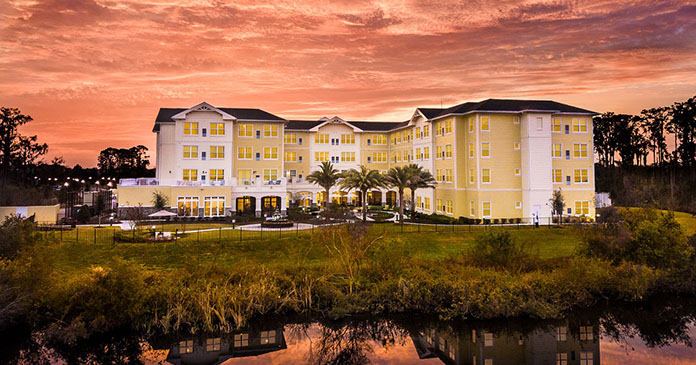 Pathway to Living, a Chicago-based developer, owner and operator of seniors housing communities and the seniors housing arm of Chicago-based real estate investor and operator Waterton, has acquired The Sheridan at Windermere, a 118-unit assisted living and memory support community at 13798 Speer Island Drive in Windermere, Florida. The community will be rebranded as Azpira at Windermere and will provide a high-quality attainable seniors housing option in line with Pathway to Living's Azpira brand.
"The long-term demographic and economic growth drivers make Orlando and Florida an important target market for us," said Patrick Dimaano, director of acquisitions and strategic partnerships at Pathway. "This Class A asset is located in an affluent, growth market and was acquired at an attractive cost basis, which gives us a great opportunity to add value to our portfolio and expand into a new region."
Built in 2017, the Class A property consists of 82 assisted living units and 36 memory support units, situated on 5.3-acres at the eastern edge of Lake Speer, roughly a 30-minute drive west of Orlando. The acquisition marks Pathway's first foray into the Florida market as the firm looks to expand into select submarkets across the U.S. with high demand for quality owner-operators of seniors housing.
"As the organization grows and we look to expand outside of our Midwest portfolio, this Class A property presents an incredible opportunity to implement our nationally recognized assisted living and memory support services and our nationally recognized VIVA! programming in a highly desirable Florida submarket," said Maria Oliva, chief operating officer at Pathway to Living. "This Orlando submarket has seen continuous growth in its elderly population with significant additional increases projected in the coming years, which gives us great confidence that we will be able to provide our best-in-class VIVA! services to this community for many years to come."
Pathway will bring its award-winning VIVA! program and philosophy to Azpira at Windermere. Meaning "long live," Viva! is a celebration of life that provides the foundation upon which Pathway's residents thrive, receiving individual attention while free to live at their own pace. The program drives the firm's daily mission of providing enriching, personalized and purpose-filled environments where residents can experience opportunities to flourish.