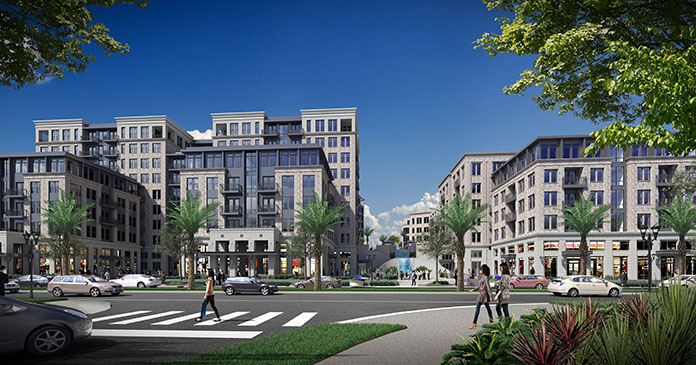 PCCP, LLC announced that it has provided a $100.6 million senior loan to a joint venture of Woodfield Investments and Argosy Real Estate Partners for the development of Morrison Yard, a 380-unit multifamily community with 25,960 square feet of ground floor commercial space in Charleston, SC. Adjacent to the Cooper River on the Upper Peninsula and proximate to the urban core of Downtown Charleston, the project is within an Opportunity Zone.
"PCCP liked this opportunity to lend to an institutional borrower who is highly experienced in the local market, for the development of a project in a high-growth, path of progress location," said Ryan Dodge, senior vice president with PCCP. "When completed, this project is poised to be one of the highest quality multifamily buildings in Charleston, offering residents an above-market amenity package."
Located on 4.6 acres at 838 Morrison Drive, the property will include one 10-story building and one a six-story building, both with ground-floor commercial space. The buildings will also have a shared two-level parking garage. Morrison Yard will feature a unit mix of 72 studios, 164 one-bedrooms, 132 two-bedrooms and 12 three- bedrooms with an average size of 960 square feet. All of the units will offer high-end, quality finishes. The project will provide residents views of the Cooper River and Arthur Ravenel Jr. Bridge, along with ample green space across eight courtyards, a two-level lobby/leasing center, a luxury clubhouse, a 3,300-square-foot fitness center, a business center, a media room, lounge/event space, a rooftop pool and pool deck, an outdoor kitchen and multiple grilling areas.
Morrison Yard is located on the Charleston Peninsula, along Morrison Drive, adjacent to the on-ramp of the Arthur Ravenel Jr. Bridge (U.S. Highway 17) and approximately one-mile north of Charleston's Central Business District in an emerging area known as "NoMo" (North of Morrison). This historically industrial area is now revitalizing and being redeveloped with a variety of high-density uses, including apartments, office and retail/restaurant space.
Known as one of the top cities for retirees and millennials, the Charleston region has a population of 787,643, labor force of approximately 382,500, and a tight unemployment rate of 2.5 percent. In recent years, new residents have moved into the area at a rate almost three times higher than that of the U.S. average. Additionally, the Charleston region receives approximately 45 new arrivals per day. The area's strong regional accessibility coupled with pro-business tax incentives, skilled workforce, coastal location and its historic nature has attracted a combination of tourism, military, aerospace, technology and public administration as the predominant industry leaders.