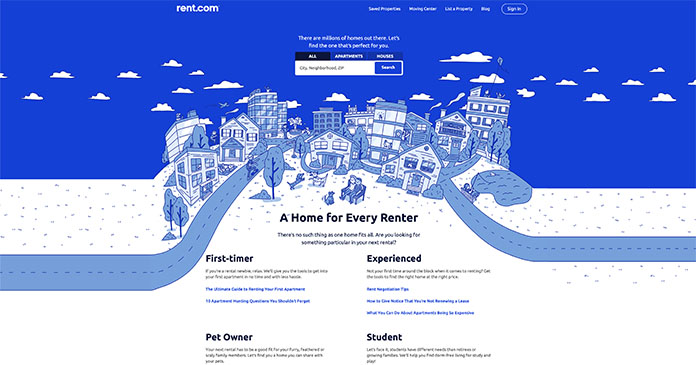 CoStar Group, Inc., the leading provider of commercial real estate information, analytics and online marketplaces, announced that it has signed an agreement to acquire RentPath's business for $588 million in cash, in connection with RentPath's recently announced Chapter 11 bankruptcy process.
RentPath's primary service is digital marketing for rental properties through a network of Internet listing websites, including Rent.com, ApartmentGuide.com, Rentals.com and Lovely.com. The RentPath network of websites generated over 21 million monthly visits and almost 9 million monthly unique visitors in 2019, according to comScore, and had approximately 28,000 properties advertised on its network as of December, 2019. RentPath is headquartered in Atlanta, Georgia and has approximately 770 employees.
"RentPath has a 30-year track record of outstanding service to the multifamily industry, developing thousands of meaningful customer relationships," said Andrew C. Florance, Founder and Chief Executive Officer of CoStar Group. "Obviously, it is very challenging for newspapers, magazines, and print directories to reinvent themselves as profitable digital businesses. RentPath was burdened with a heavy debt load that prevented the company from making the necessary investments in building brand recognition and generating traffic from Google. As the cost of Google traffic soared, RentPath was unable to keep pace. Following restructuring in bankruptcy, CoStar Group expects the combined companies to benefit from synergies and plans to invest in building RentPath's online brands and traffic to provide improved quantity and quality of lead flow to advertising clients. The Apartments.com network of sites generated 842 million visits last year, and we intend to use this valuable audience to generate leads for RentPath clients as well."
"We believe there is untapped potential to serve the millions of landlords traditionally overlooked by online apartment marketplaces, which tend to focus on large apartment communities with over 100 units. We believe that investing in an excellent URL like Rent.com is the perfect vehicle for reaching that underserved audience."
"CoStar Group operates a number of large and growing online marketplaces," continued Florance. "We believe that RentPath's talented and experienced employees will become valuable contributors not only to our Apartments.com network of sites but across all of our marketplaces."
RentPath's 2019 unaudited financials reflect revenue of approximately $227 million and adjusted EBITDA of approximately $47 million. Total revenue declined approximately 9 percent from 2018, while adjusted EBITDA declined approximately 24 percent in the same period. "Following successful conclusion of the bankruptcy process and regulatory review, we expect the acquisition to add scale to our Apartments.com business and be highly accretive to CoStar earnings once fully integrated," said CoStar Group Chief Financial Officer Scott Wheeler.
"We are very excited to be joining CoStar as part of the Apartments.com network," said Marc Lefar, Chief Executive Officer of RentPath. "Our customers have an ever increasing number of choices when considering where to spend their marketing dollars. With CoStar's commitment to invest in the RentPath family of sites, we will be in a position to offer our customers the best options to reach potential renters."
The Company plans to provide revenue and earnings guidance for 2020 in its quarterly financial results release for the fourth quarter expected to be issued on February 25, 2020. Revenue and earnings guidance related to the transaction is not expected to be available until later in the year.
The closing of the transaction is subject to various conditions, including approval by the bankruptcy court and regulatory approval. Subject to bankruptcy court oversight and pending closing, we expect that RentPath's operations will continue in the ordinary course.
The preceding forward-looking statements reflect CoStar Group's expectations as of February 11, 2020. We are not able to forecast with certainty whether or when certain events, such as acquisition-related costs, the exact timing of closing of the acquisition, or the exact amounts or timing of any investments related to the acquisition will occur. Given the risk factors, uncertainties and assumptions discussed above, actual results may differ materially. Other than in publicly available statements, the Company does not intend to update its forward-looking statements until its next quarterly results announcement.