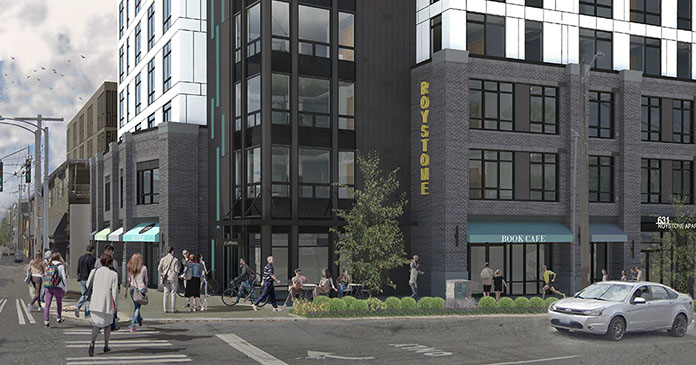 JLL Capital Markets announced that it has arranged $30 million for the development of Roystone, a 93-unit, boutique multihousing project with ground-floor retail in Seattle's desirable Lower Queen Anne neighborhood.
JLL worked on behalf of the developer, Vibrant Cities, to secure the construction financing through First Interstate Bank.
Due for completion in fall 2021, the eight-story building will include 93 luxury residences with underground parking and a rooftop deck offering views of Downtown Seattle, the Space Needle and Elliott Bay. The project will also feature small-scale, street-level retail totaling 3,814 square feet that will contribute to the neighborhood's pedestrian-friendly character. The project is designed by Jackson Main Architecture and general contracting services are being provided by Pavilion Construction. In addition to the rooftop deck, amenities will include a lobby-level resident lounge, fitness room and clubhouse.
The JLL Capital Markets debt placement team representing Vibrant Cities was led by Brandon Roth, Zack Goodwin and Matt Pelpel, who have financed multiple projects for Vibrant.
"We value Brandon Roth, Zack Goodwin and the JLL partnership," said James Wong, CEO and co-founder of Vibrant Cities. "The team has been a trusted partner for Vibrant on multiple projects. With their representation, we can be confident we are getting the right funding partners and optimal terms for all parties involved. Brandon and his team delivered on those expectations again with Roystone."
"For every project Vibrant develops, we always have a partner in charge from beginning to end," said Pui Leung, a managing partner and co-founder of Vibrant. "As the partner in charge of Roystone, I am proud to state that this project will be the first eight-story apartment community built under Seattle's up-zoned code in Queen Anne, one of city's most desirable neighborhoods. We're excited and grateful to be adding needed urban living apartments in the fast-growing Seattle market."
JLL Capital Markets is a full-service global provider of capital solutions for real estate investors and occupiers. The firm's in-depth local market and global investor knowledge delivers the best-in-class solutions for clients—whether investment advisory, debt placement, equity placement or a recapitalization. The firm has more than 3,700 Capital Markets specialists worldwide with offices in nearly 50 countries.