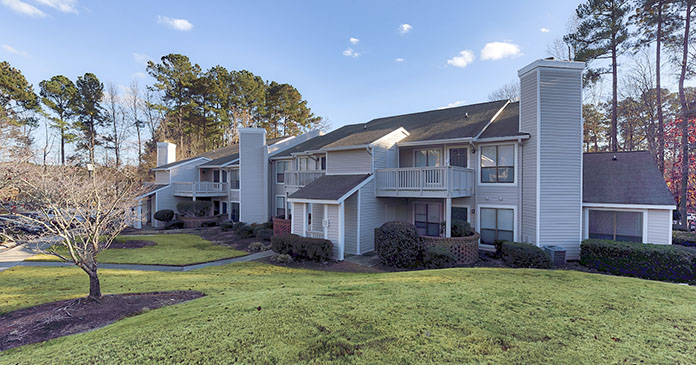 Multifamily investment firm Magma Equities in joint partnership with Henley Investments has closed on its second apartment acquisition in the Raleigh, NC metro in the past three months, with the $26 million off-market purchase of Chapel View Apartments, a 224-unit community in Chapel Hill.
For the past three years, the 18-acre garden-style community located at 2701 Homestead Road, two miles north of downtown Chapel Hill, had been operating as a student housing facility. Despite its proximity to the University of North Carolina, the property had suffered from higher than market vacancy. This created a value add opportunity to reposition the property as a traditional market-rate apartment community that will help meet the demand for quality affordable rental housing in the area; the result of the region's impressive population and employment growth, according to Magma managing principal Ryan Hall.
"Much of the new inventory being added to the market is luxury product and cost prohibitive to most renters living in Chapel Hill," said Hall.  "At our cost basis, we will be able to improve the property's physical appearance and social atmosphere to create a brand new apartment community that will compete with existing Class B+ properties in the submarket, but at a price point currently unavailable in the market," said Hall.
Chapel View Apartments features a mix of one- and two-bedroom floorplans and boasts a variety of common area amenities including swimming pool, fitness center, basketball and tennis courts and a cyber café.
Renovation plan includes updating building exteriors, common areas and all interiors of the one- and two-bedroom apartment homes, with such improvements as new stone countertops, stainless steel appliances, plumbing and lighting fixtures, and flooring.
Since entering the Raleigh/Durham multifamily market in February 2019, Magma Equities and its capital partners have invested nearly $90 million in the region, building a portfolio of approximately 700 units.
"As we develop a track record here in the Triangle, we continue to see more off-market opportunities that allow us to circumvent the competitive bidding environment for listed properties in the Raleigh market," added Hall. "This contributes greatly to our ability to buy below replacement cost and create value for both our investors and our tenants."
Garrett Solomon, Managing Director and CIO of Henley Investments' North American group added, "We see tremendous opportunity in the Raleigh multifamily market and we're excited to work with Magma to expand our successful value-add repositioning strategy. As we continue to provide accessible housing options for the local workforce."
Ownership has engaged Pinnacle Management, the third largest property management firm in the U.S. to manage the property.
Deaton Investment Real Estate represented the buyer in the transaction.