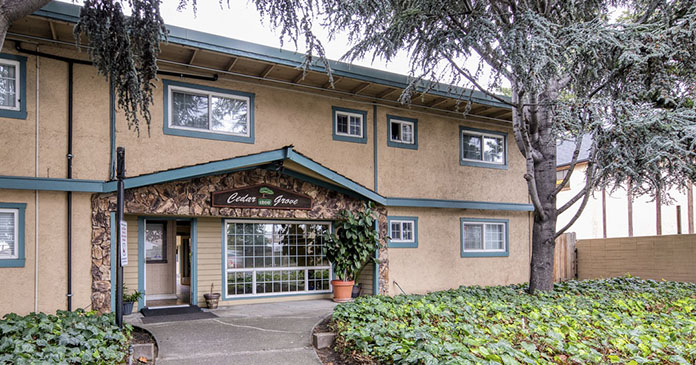 Trion Properties, a private equity real estate firm that specializes in multifamily investments in western markets, has expanded its East Bay portfolio with the acquisition of Cedar Grove, a 61-unit multifamily community located in San Leandro, California, for $15 million.
With many East Bay submarkets benefiting from Silicon Valley spillover, the region is experiencing unprecedented population and employment expansion, according to Max Sharkansky, Managing Partner at Trion Properties.
"San Leandro draws many residents from the ultra-hot Silicon Valley market and is a vibrant and innovative city on its own," explains Sharkansky. "The market offers a convenient location, easy access to transportation, a strong business community, and a diverse housing base."
San Leandro apartments also offer a more attractive price point compared with neighboring submarkets, which will continue to drive potential residents to the area, explains Sharkansky.
"Despite its flourishing economy, San Leandro's multifamily rents remain lower relative to those in San Francisco and the Silicon Valley, presenting an appealing alternative to many Bay Area tenants," continues Sharkansky. "We continue to see this region as a positive long-term location. Since we purchased our first asset in San Leandro in 2016, we've experienced firsthand the exceptional growth and high occupancy rates, encouraging us to acquire additional assets in the market."
The acquisition of Cedar Grove, which Trion is rebranding as Soji Apartments, brings the firm's San Leandro multifamily portfolio to three properties. The property is located near downtown San Leandro, within walking distance of the San Leandro BART Station, giving residents access to millions of jobs around the Bay within a short commute.
Trion's other two assets in the market, Metro 77&85 and Metro 348, are located within 1.5 miles of Soji Apartments. The company also owns multifamily communities in nearby Fremont and Hayward.
Sharkansky additionally notes that the city boasts a large industrial area that is home to a booming advanced manufacturing industry: "San Leandro continues to attract top companies whose workforce is seeking apartments that provide a high quality of life."
Several major firms have a presence in the San Leandro market, include Coca-Cola, American Packaging, UniFirst Corp., TriNet, and Ghirardelli Chocolate.
The property, originally built in 1959, is a two-story gated apartment community that consists of mostly one-bedroom units. Interiors at the pet-friendly complex feature hardwood floors, crown molding, eat-in kitchens, breakfast nooks, and high-speed Internet access. Common amenities include a courtyard, outdoor grill, playground, a package service, and laundry facilities.
Trion is planning upgrades to the community's interiors that will include the installation of quartz countertops, vinyl plank flooring, and new cabinets. Capital improvements are also planned for the asset's exterior, including its façade, common areas, landscaping, branding, and signage.
The renovations will enable the company to increase the property's rental rates by over 21 percent, according to Farhan Mahmood, Managing Director, Acquisitions at Trion Properties.
"This acquisition and our subsequent improvements represent an opportunity for our company to implement our proven value-add renovation strategies to modernize the community and bring rents up to market," says Mahmood. "We will leverage our extensive knowledge of San Leandro, as well as our deep experience throughout the East Bay and current portfolio, to optimize this asset's appeal and efficiencies."
Residents of Soji Apartments enjoy convenient access to Interstate 880, Thrasher Park, local banks and schools, as well as several dining and shopping options.
John Leyvas of Newmark Knight Frank represented both Trion Properties and the seller in this transaction.
Soji Apartments is located at 1200 Davis Street in San Leandro, California.