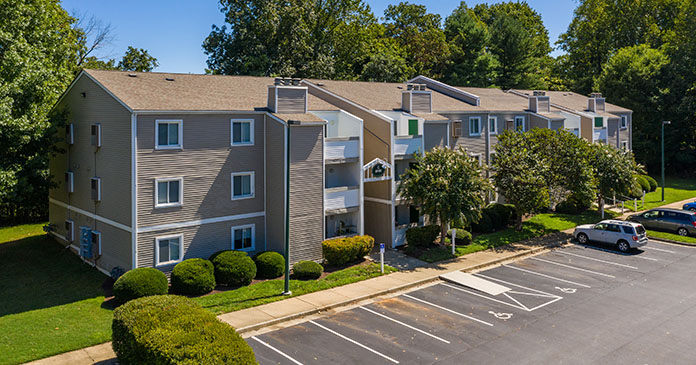 Colliers International has closed two major multifamily sales on behalf of Aria Legacy Group in Central and Southwest Virginia.
Maple Ridge, located at 600 Reusens Road in Lynchburg, was sold to Axiom Realty Partners based in Westport, Conn. The exceptionally maintained community includes 152 units in a scenic location near Lynchburg's historic district and high-end residential area. Originally built in 1981, Maple Ridge offers a complete amenity package including a swimming pool, fitness center, dog park and sports courts.
"These sales are a testament to our team's dedication to providing quality service to our clients across the Virginia," said G.S. (Hank) Hankins, senior vice president with Colliers International. "This corridor is getting a lot of interest from out-of-market investors."
Maple Ridge is located near Liberty University, the University of Lynchburg, Randolph College and Virginia Episcopal School with total enrollment in excess of 18,000. With a small percentage of student tenants, opportunity exists to grow the student renter base. It also has easy access to downtown Lynchburg and an abundance of shopping and dining options along Boonsboro Road and Rivermont Avenue.
West Creek Manor, located at 410 Westside Boulevard NW in Roanoke, was sold to Woodrock Property Group, based in Spring Valley, N.Y. The community was built in 1974 and renovated in 2010. It comprises 197 units that have benefited from exceptional maintenance and capital investment. Amenities include a fitness facility, dog park and community room.
It is located less than a mile to Salem VA Medical Center and three miles from LewisGale Medical Center, employing more than 4,500 people. West Creek Manor occupies a strategic location adjacent to the city's main thoroughfares with easy access to downtown Roanoke, major retail hubs, key employment nodes and local amenities.
Per CoStar, Roanoke is experiencing tremendous rent growth with average effective rent of $852 and year-over-year rent growth of 6.2 percent.
G.S. (Hank) Hankins, senior vice president; Victoria Pickett, first vice president; Charles Wentworth, senior vice president; Will Mathews, managing director; Rawles Wilcox, senior vice president; Clay Ellis, associate; and Garrison Gore, associate, with the Colliers Mid-Atlantic Team represented the seller, Aria Legacy Group.