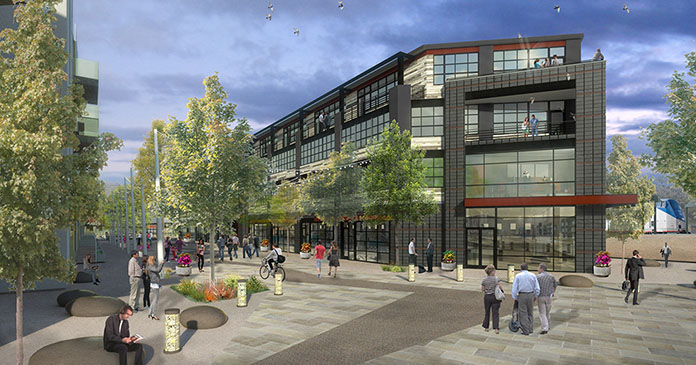 JLL Capital Markets announced that it has arranged $29.4 million in construction financing for S'PARK Railyards (Railyards), a 69,263-square-foot Class A office building in Boulder, Colorado.
JLL worked on behalf of a joint venture between The John Buck Company, Kinship Capital and Element Properties to secure the five-year, floating-rate construction loan through Wintrust Financial Corporation. Railyards is the fourth out of a total of six planned buildings to be built by the joint venture. The last two projects will break ground by the end of year.
Railyards is located at 3401 Bluff Street in the S'PARK master-planned community, which upon completion will comprise 288 multifamily units, 106,029 square feet of office space, 31,363 square feet of ground floor retail and approximately 350 parking spaces across six separate buildings. The project is located just two blocks from Boulder's new Rapid Bus Transit Station and immediately adjacent to a future Northwest Rail Line Station. Additionally, Railyards has convenient access to a wide array of employment and entertainment options, including University of Colorado Boulder, the Google Campus, Lockheed Martin, and the Twenty Ninth Street and Pearl Street Malls, among others.
Anticipated for completion in March 2021, the four-story Railyards building will feature 64,000 square feet of Class A office space and 5,263 square feet of ground floor retail space.  The office layouts have been designed with 25-foot spans between columns, providing nearly column free floor plates that offer uninterrupted views of the Flatirons. Railyards is currently 92.4 percent pre-leased.
The JLL Capital Markets team representing the borrower was led by Senior Managing Director Keith Largay and Senior Directors Brian Walsh and Leon McBroom.
According to Walsh, "The lending community was very excited about the opportunity to provide financing to market-leading sponsorship in one of the highest barrier-to-entry markets in the U.S."
JLL Capital Markets is a full-service global provider of capital solutions for real estate investors and occupiers. The firm's in-depth local market and global investor knowledge delivers best-in-class solutions for clients—whether investment advisory, debt placement, equity placement or recapitalization. The firm has more than 3,700 Capital Markets specialists worldwide with offices in nearly 50 countries.