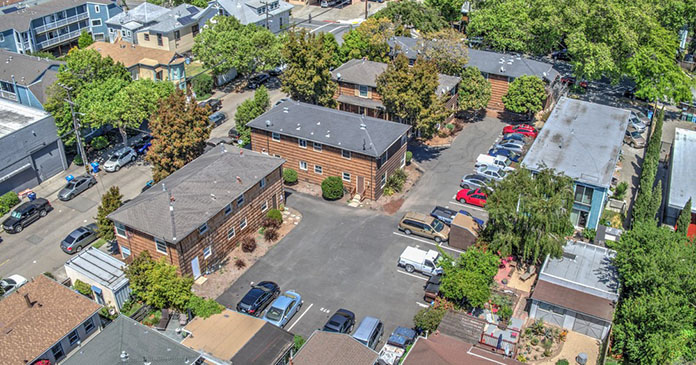 Levin Johnston of Marcus and Millichap, one of the top multifamily brokerage teams in the U.S. specializing in wealth management through commercial real estate investments, successfully advised its client, a private investor, to acquire an 18-unit multifamily property in the growing West Berkeley neighborhood in the Bay Area submarket of Berkeley, California.
The 1031 exchange began with the sale of a 9-unit multifamily community in San Jose, California, in which the team represented the seller and procured the buyer, according to Levin Johnston's Executive Managing Director Adam Levin and Senior Managing Director Robert Johnston.
"After securing a strong price for the San Jose property, we strategically advised our Client to trade into an asset in the booming West Berkeley market, which offers intrinsic value as well as long-term upside and development potential," explains Johnston. "The community is in a world-class location that appeals to a broad tenant base that's includes students, young professionals, and families who will benefit from close proximity to a large selection of upscale retail options and trendy restaurants, including 4th Street shopping and Berkeley Bowl."
Situated on nearly half an acre, the community offers one- and two-bedroom floorplans. Constructed in 1943, six of the units have been completely remodeled with updated kitchens, modern hard flooring, high-end designer finishes, and new appliances. The remaining units present room for ample value-add renovations down the line, notes Johnston.
"By strategically guiding our clients throughout these complex 1031 exchange transactions, we continue to demonstrate our ability to serve as wealth-focused commercial property advisors," says Levin. "Keeping our finger on the pulse of the market, we recognized an opportunity for our client to sell his lower yielding apartment community in San Jose, and transition into a stable, cash-flow trophy investment with future value-add potential in the heart of Berkeley."
The 9-unit multifamily property is located at 70-74 North 10th Street in San Jose, California and sold for a total price of $3.44 million. The 18-unit multifamily property is located at 968 Addison Street in Berkeley, California and was purchased for a total price of $4.04 million.
Additionally, Levin Johnston also recently directed the sale of Cambridge Court, a 17-unit multifamily townhome community in Fremont, California. In this transaction, the team represented the seller and procured the buyer, a local investor.
"The city of Fremont is rapidly expanding and the condominium market has seen a tremendous amount of growth—over the course of five years, the average sale price of condominiums in Fremont increased approximately 36 percent—making it an ideal location for legacy wealth," says Levin. "Each townhome at Cambridge Court has its own individual parcel, allowing for prospective buyers to have increased flexibility for their exit strategy."
Originally built in 1985, Cambridge Court has recently undergone significant renovations and offers its tenants large two-story, two-bedroom/two-bathroom townhouse units with high-end designer finishes including black granite countertops and cherrywood cabinets. Amenities include private backyards, upstairs balconies, in-unit washers/dryers, fireplaces and private covered parking.
Cambridge Court is located at 3102-3166 Rodney Common in Fremont, California and sold for a total sale price of $10.06 million.