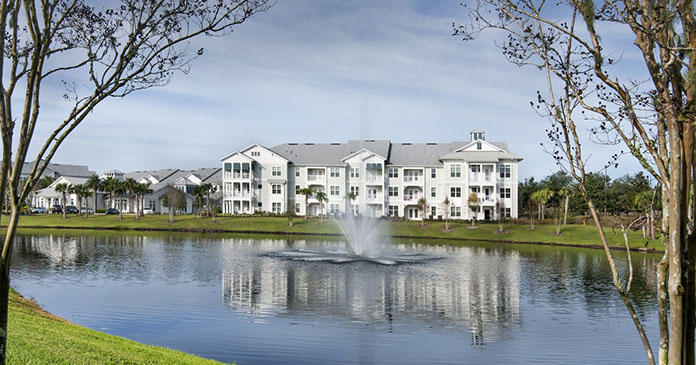 Passco Companies, a privately held California-based commercial real estate company that specializes in acquisition, development, and property and asset management throughout the U.S., has acquired The Reserve at Nocatee, a 244-unit luxury multifamily community in Ponte Vedra, Florida, for $54.9 million.
The Reserve at Nocatee is the first multifamily community with a highly desirable Ponte Vedra address to be built since 1988. This acquisition brings the firm's current Florida portfolio to a total of 3,650 units, according to Colin Gillis, Vice President of Acquisitions, East at Passco Companies.
"When sourcing acquisitions, we have an extensive list of factors we evaluate, including ongoing and projected employment and population growth, school system quality, educational attainment within the area, housing values, and household incomes," says Gillis. "This asset, ideally located at the heart of the booming master-planned Nocatee community in Ponte Vedra, the second fastest growing suburb in America, exceeds these criteria points on all counts."
Gillis notes that Ponte Vedra is located 25 miles southeast of Jacksonville just over the Duval County line in St. John's County, which has some of the highest financial barriers to entry in the entire State of Florida. Developers have often spent upwards of $40,000 per unit prior to completing site work due to high utility impact and school concurrency fees, which is keeping the future St. Johns County multifamily pipeline relatively limited, further driving the value of this rare acquisition opportunity.
"Ponte Vedra is in unincorporated St. Johns County, which is not only one of the most affluent areas in the state, but among the top 10 fastest growing counties in the country," continues Gillis. "Residents of The Reserve at Nocatee also benefit from its location in the number one school district in Florida. Further, it is the only multifamily property within the country-club-like environment of Nocatee, which was recently ranked as one of the best-selling master planned communities in 2019."
In addition to the premier suburban location and school system, Nocatee offers a high-quality, family-oriented lifestyle with ongoing development of resort-like amenities, the emergence of its own resident conveniences and programming in place for those to participate in on a daily basis. Residents have exclusive access to all of Nocatee's pools, water parks, sports recreational areas, access to a private beach club on the Atlantic, golf cart trails, bike paths, dog parks, and fitness center facilities, notes Gillis.
Gillis explains: "Nocatee was originally developed for single-family homes—and sells nearly 1,000 homes each year—but has continued to expand to include retail, office, medical facilities, grocers, restaurants, and more. Along with these developments, there are many nature reserves, with 60 percent of the 12,500-acre parcel used for conservation and land preservation, adding to its unique appeal."
Brian Moulder and Dhaval Patel of Walker & Dunlop facilitated the transaction.
Moulder adds: "The Reserve at Nocatee is a fantastic asset in a county that is home to the state's best schools and is experiencing tremendous growth. Working with the Passco team is always a pleasure, and it was a fantastic to be able to expand and deepen our relationship with this transaction."
The Reserve at Nocatee's one-, two-, and three-bedroom units feature washer/dryers, wood/vinyl floorings, granite countertops, stainless steel appliances, and private balconies. The community, which was built in 2018 and sits on over 20 acres of land, offers best-in-class amenities on site, such as a fitness center, a resort style pool with cabanas, and pet park.
The Reserve at Nocatee is located at 215 Hunters Lake Way in Ponte Vedra Beach, Florida. Chris Black and Caleb Marten of KeyBank Real Estate Capital's Commercial Mortgage Group arranged acquisition financing on behalf of Passco Companies.