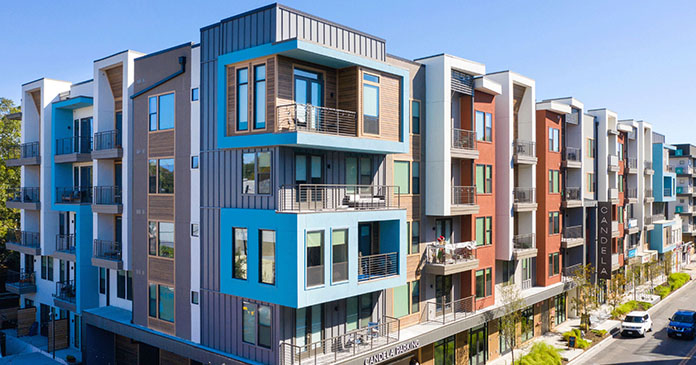 PCCP, LLC announced that it has provided $46 million in financing for the acquisition of Indie and Candela, two adjacent, recently delivered apartment projects totaling 258 units in East Austin, TX.  The seller was Transwestern Development Company.
"The deal set up couldn't be better: high quality assets in an "A" location for a sophisticated sponsor.  We are very pleased to be in the mix," said Tina Ramos, Vice President with PCCP.  "East Austin is an exciting, high-growth submarket and the properties' profiles and unit mixes make them well-positioned to take advantage of strong millennial demand in the submarket."
Located 1630 East 6th Street, with frontage along both East 6th Street and Chalmers Avenue, Indie was completed in mid-2018 and contains 139 units, the majority of which are studio units. The five-story building includes residential over ground-level retail and amenities.
Candela is located at 1614 East 6th Street on the corner of East 6th Street and Comal Street and was completed in mid-2019. The project offers a traditional unit mix with an average unit size of 837 sf. The five-story building offers upscale, modern amenities on the ground level.
Between 2010 and 2019, the population within a three-mile radius of Indie and Candela grew by 27.4 percent, with 25 percent of residents being millennial aged. This high millennial growth has generated significant demand within a housing stock that is currently 63 percent renter-occupied.
Located along East Sixth Street in East Austin, the properties are within a dense, central business district-adjacent location which offers direct walkability to numerous restaurant, retail, and entertainment amenities, as well as the Plaza Saltillo light rail station. In addition, 6th Street is a main thoroughfare for car traffic heading downtown, allowing commuters to reach the CBD in less than 10 minutes. Interstate 35, with an on/off ramp just one mile from the properties, runs north/south and provides easy access to all areas of the metro.
East Austin is one of the fastest growing areas in Austin and has been home to a growing number of tech companies including Google, GoDaddy, and a burgeoning start-up scene.