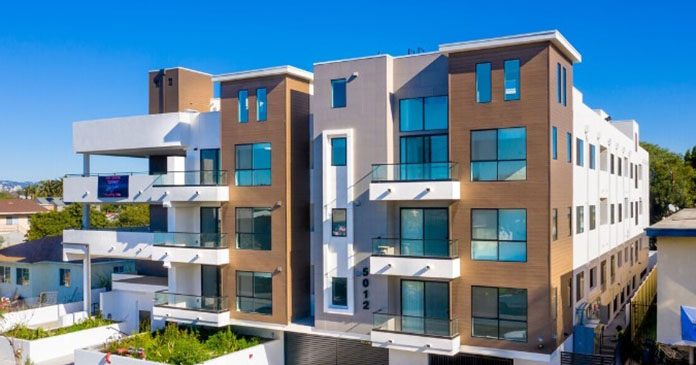 Trion Properties, a private equity real estate firm that specializes in multifamily investments in western markets, announced that it has completed its first ground-up development project: a multifamily community with numerous tech amenities in the Los Angeles County submarket of Culver City, California.
The 28-unit property, 5012 Apartments, represents Trion's expansion from value-add multifamily renovations into ground-up development and is the first property the firm has taken from unentitled to developed and stabilized, according to David Moghavem, Director of Acquisitions for Trion Properties.
"While Trion's core strength has been upgrading undervalued multifamily properties in up-and-coming neighborhoods, this project presented us with the opportunity to fill a significant void in the neighborhood by developing a brand-new class-A community from the ground up. As seasoned owners in the area, we understood the clear demand in the market for such a product, further demonstrating our company's overall mission to deliver quality housing in our markets, whether it be through a value-add or ground up development strategy." says Moghavem. "Through our previous successes executing our proven strategy with our value-add project located just a block away from the community, we identified this pocket of Culver City to be an area where renters are demanding an even higher level of quality, compelling us to deliver that product with much success"
Located five miles from the beach, Culver City is a region within Los Angeles noted for its strong media and entertainment presence. The market is quickly transitioning into a tech hub, with Sony, NFL Network, and Apple, among the employment giants taking space in the market. In addition, the $600 million modernization and expansion of Culver Studios, to be occupied by Amazon Studios, is expected to transform downtown Culver City and attract more younger workers to the area.
"Tech employees have come to expect the same level of technology in their homes as they have at work," says Moghavem. "5012 Apartments brings something totally new to the area that this demographic was demanding: high-end design plus next-level tech-focused amenities at an affordable price. Interest has been so great that we were able to prelease 13 units with a tentative certificate of occupancy."
The property is now just under 50 precent leased ahead of its official grand opening, planned for March 15.
The three-story, pet-friendly 5012 Apartments features a mix of 15 one-bedroom and 13 two-bedroom units, including some with lofts. The property features a host of interior and common area tech amenities including a high-level security system, Nest thermostats, Luxer One package locker services, a ButterflyMX smart video intercom system, and Sonos smart speakers.
Additional unit amenities at the development include state-of-the-art appliances and flooring, stackable washers and dryers, central air conditioning, walk-in closets, cable TV, and modern finishes. Community amenities include a second-floor amenity deck, breakfast bar, courtyard equipped with furniture and planters, exterior hallways, and covered assigned parking.
5012 Apartments is located at 5012 Slauson Avenue in Culver City, California. The property is situated five minutes from Downtown Culver City and within close proximity of the 405 Freeway and Sony Studios.