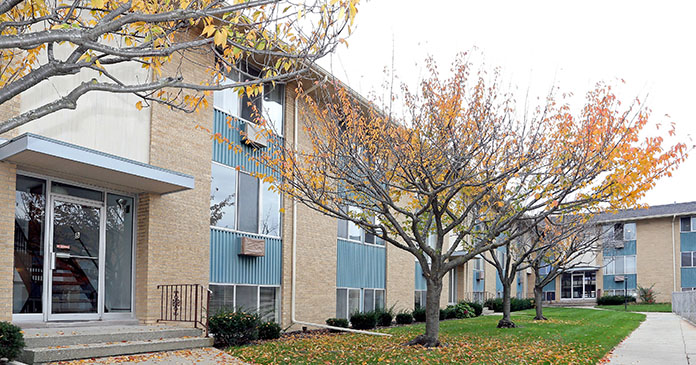 Greystone Bel recently closed the sale of The Poplars Apartments, a 105-unit multifamily property in Saginaw, Michigan for $4,000,000 or $38,095 per unit.
Austin Hull of the Greystone Bel Real Estate Advisors investment sales team represented both the buyer and the seller on this off-market transaction, helping the seller navigate the defeasance process in record time.  Despite the current challenges in the market, Greystone Bel was able to coordinate with all parties—buyer, seller, and lender—to get the transaction completed. Austin Hull states, "While there is a slowing in the market due to the evolving COVID-19 situation, solid value-add investments like The Poplars Apartments are still able to get across the finish line."
Built in 1964 and located at 4444 State Street in Saginaw, Michigan, The Poplars is family-owned, low-rise property consisting of a single, three-story building with an attractive inner courtyard with a swimming pool, BBQ grills, patio tables, and lounge seating. The property features a unit mix of 12 studios, 32 one-bedroom / one-bathroom units, and 61 two-bedroom / one-bathroom units. The Poplars is situated along State Street, a major east-west arterial, at the intersection with Hemmeter Road. Residents have easy access to Kroger, Planet Fitness, Rite-Aid, and numerous restaurants located in the Green Acres Plaza across the street. Additionally, major demand drivers are within a 15-minute drive from the property including Fashion Square Mall, Saginaw Valley State University, Delta College, Nexteer, and Hemlock Semiconductor.