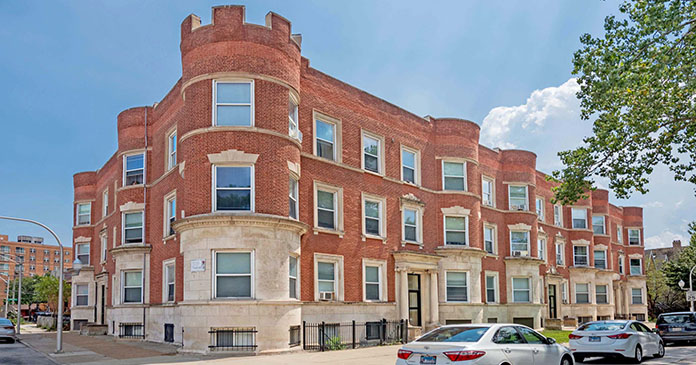 Interra Realty, a Chicago-based commercial real estate investment services firm, announced it brokered the sale of 4119 S. Ellis Ave., a 23-unit apartment building in Chicago's Kenwood neighborhood, for approximately $2.7 million, or $117,391 per unit.
Jon Morgan and David Goss, co-founders and managing principals of the firm, together with Managing Partner Ted Stratman and Managing Partner Lucas Fryman, represented both the private seller and buyer in the transaction.
"With a strong price per unit and a 6.65 percent cap rate, this transaction attests to the desirability of apartment buildings of scale in Kenwood and surrounding South Side neighborhoods," said Fryman. "Large buildings don't regularly go up for sale there, and when they do, they go quickly. Interra helped create a competitive bidding process for 4119 S. Ellis by exposing it to our exclusive network of investors.
"We identified an out-of-state buyer that has a long-term vision for building a critical mass of apartment buildings in this area," he continued. "Although the deal was in the works well before COVID-19, the buyer faced considerable headwinds as a result of the pandemic that affected the original financing terms. Ultimately, they stayed true to their investment strategy and were able to close the deal."
Built in 1903, 4119 S. Ellis is a three-story brick building that includes four two-bedroom, 11 three-bedroom and 8 four-bedroom units. The building was 95 percent occupied at the time of sale.
4119 S. Ellis is located near several CTA bus routes, including those that connect to the Green and Red lines, as well as Lake Shore Drive, offering quick access to downtown Chicago.