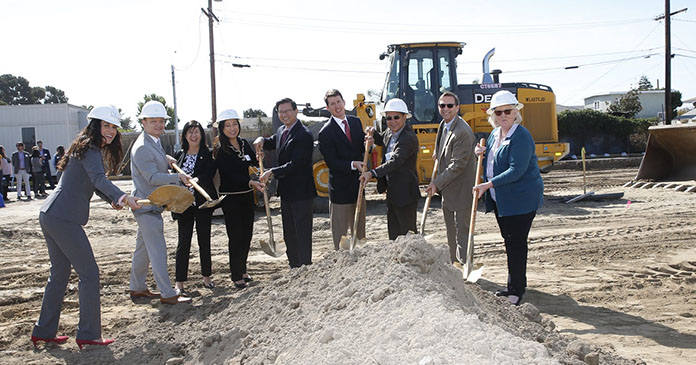 Meta Housing Corporation, a Los Angeles-based developer, in a joint venture partnership with Western Community Housing, a Southern California-based non-profit public benefit corporation, has announced the development of Westminster Crossing, a three-story, 65-unit, affordable and permanent supportive housing multifamily community in Westminster, California.
The $42 million development will provide quality affordable housing for qualifying large families and individuals throughout Orange County, as well as individuals experiencing varying levels of homelessness, according to Kasey Burke, President of Meta Housing.
"Market-rate rents in Orange County reached the highest level on record at the end of 2019. This is making affordable housing increasingly more difficult to find, especially for larger families. It is also resulting in an influx homelessness across the county," says Burke. "Westminster Crossing will fill a deep need in the community by providing safe, spacious, and well-amenitized apartments that are affordably priced, easing the burden on some of these renters."
Meta Housing partnered with the City of Westminster, County of Orange, California Housing Finance Agency (CalHFA), U.S. Department of Housing and Urban Development; Capital One Bank; California Community Reinvestment Corporation; and Red Stone Equity Partners to finance the project.
"With rents skyrocketing across California, the combination of public and private partnerships is increasingly essential to address the growing need for quality affordable housing in our local communities," says Burke. "By working closely with cities, counties, and community partners, we can continue to bring much-needed affordable housing to fruition for families in need, as well as improve the vitality of our local cities."
According to Vice Chairman of the Orange County Board of Supervisors Andrew Do, "Affordable housing increases our capacity to serve those experiencing homelessness.  Of the 65 units in Westminster Crossing, 20 will be designated specifically for households experiencing homelessness, bringing us one step closer toward ending homelessness in Orange County."
Westminster Crossing will be designed to incorporate a host of community spaces that will be purpose driven, according to Burke. Programmed space within the new development will include a homework room, conference rooms, art studio/maker space, a gym/fitness/dance room, and a community room, as well as management and service-provider offices.
The project will also be focused on fostering a holistic environment for residents by providing resident services including adult educational classes, health and wellness programs and skill-building courses, Burke adds. To provide these services, Meta Housing is partnering with co-developer Western Community Housing. Robust wrap-around supportive-services will be provided by TAO Central to those households requiring additional assistance to thrive in the community.
"Supportive services have been proven to be extremely beneficial in helping residents elevate their quality of life and achieve their career and personal goals," explains Burke. "Our partnerships with LifeSTEPS and TAO Central allow us to bring these much-needed services to Westminster Crossing. Our goal is not simply to build housing, but rather create partnerships and integrate programs that ultimately transform communities and enrich the lives of residents."
Westminster Crossing will be constructed to feature residential units with fully equipped kitchens and private bathrooms, and dishwashers, as well as hard flooring and carpet. The project will include 89 parking spaces,10 bicycle parking spaces, and common-area amenities such as a community garden, outdoor lounge with barbecue area, synthetic turf play area, and a tot lot.
"Unique community spaces are the cornerstone of any multifamily development today. We always place an emphasis on creating thoughtful spaces that encourage collaboration, social interaction, and engagement," says Chris Maffris, Executive Vice President of Meta Housing. "The planned community garden at Westminster Crossing is a prime example of this. This garden, along with other planned community spaces, will serve as gathering areas that will aid in building a sense of community and belonging among residents."
Meta Housing Corporation and Western Community Housing will serve as co-developers and general partners on the project. KPRS Construction Services, Inc. will serve as the project's general contractor, with IMG as construction manager, Y&M Architects as architect, and MJS as landscape architect.
Westminster Crossing will be located at 7122 Westminster Boulevard in Westminster, California. The new development will be located within a quarter mile of bus stops, a park, grocery stores, schools, and a pharmacy, and within a mile of a medical center and a library. The project is expected to be completed in Fall 2021 and will be managed by John Stewart Company.