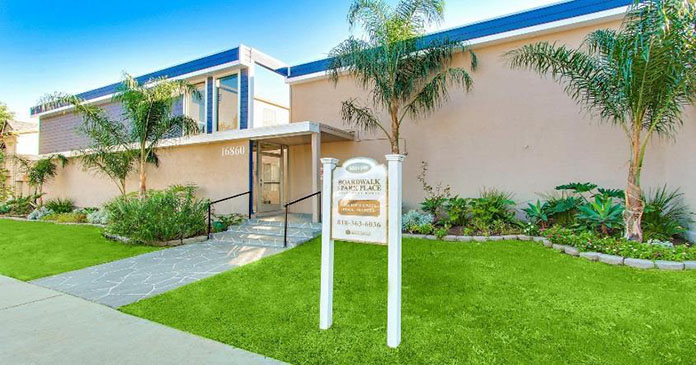 Universe Holdings has acquired a 122-unit multifamily portfolio in Granada Hills, CA for $25.5 million.
The purchase of the 56-unit Boardwalk and Park Place Apartments, the 38-unit Devonshire Apartments and the 28-unit Granada Pine Apartments increases Universe's portfolio in the San Fernando Valley to 23 properties with just over 1,000 units. It is the second long-term owned portfolio in the San Fernando Valley that Universe has acquired in the last two years.
The Granada Hills properties have remained under family ownership since being built in the 1960s. The assets have not been significantly upgraded over the last several decades, providing a significant value-add opportunity according to Universe CEO Henry Manoucheri.
"The buildings and grounds of all three properties were well maintained, but not substantially enhanced, creating a perfect scenario where every dollar we spend on capital improvements will be value creating," Manoucheri said. "The opportunity to acquire 122 units in a prime rental market in one transaction does not come around very often."
The Granada Hills submarket boasts a thriving rental market, with 44.8 percent of the population being renters and a 1.2 percent vacancy rate. The submarket's lower cost of living, compared to other large metro areas in Los Angeles, as well as its proximity to major employers, including Northrup Grumman, Kaiser Permanente, the Walt Disney Co., Universal Studios and Warner Bros., continues to drive rental demand.
Universe will rebrand all three properties with Boardwalk and Park Place becoming Chateau Chatsworth; the Devonshire Apartments now being Chateau Devonshire Apartments; and Granada Pine Apartments now Chateau Blackhawk Apartments.
Universe will initiate a $2.7 million capital improvement program to upgrade unit interiors and property exteriors at all three assets. Interior upgrades will include a stainless steel appliance package, vinyl plank flooring, quartz countertops, backsplash, two-tone paint, new lighting fixtures and hardware, as well as shaker style cabinets. Exterior improvements will comprise roof repairs, new exterior paint scheme and siding, upgraded courtyard landscaping and exterior lighting and resurfaced parking lots.
"We've built a sizeable portfolio of high-quality assets located in the San Fernando Valley, a market with strong multifamily fundamentals, where we see plenty of runway for rent growth," Manoucheri said. "Sourcing off market opportunities from multi-generational owners is something we have been effective in doing. This portfolio acquisition in a challenging market in which to find deals is an extremely positive addition for Universe and its investors."