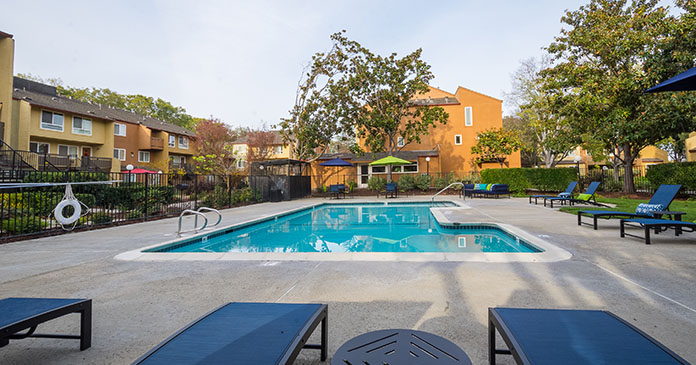 Decron Properties has acquired Rancho Luna Sol, a 188-unit multifamily community in Fremont, CA for $71.5 million.
With its acquisition of Rancho Luna Sol, Decron increased its regional portfolio to 1,054 units over six properties. Since 2015, the Los Angeles based real estate investment company has steadily expanded beyond its Southern California roots, starting with its initial investments in Northern California and more recently with two acquisitions in the Pacific Northwest in 2018 and 2019.
The Northern California multifamily investment market is extremely competitive and the opportunities to acquire an asset that fits the firm's investment strategy are difficult to find according to Decron CEO David J. Nagel.
"The acquisition of Rancho Luna Sol is a result of our ability, along with our investors to successfully raise the $26.5 million in equity that it took to purchase the property," Nagel said. "It's also a result of our strong relationship with Citibank, which provided us with the interest only financing that allowed us to complete the transaction."
This is Decron's first acquisition in Fremont, a city experiencing continuing growth, accounting for the fourth largest population in the Bay Area. Year-over-year rent growth for Fremont has averaged 4.88 percent over the last five years while vacancy averaged 3.7 percent over the same period, according to Costar.
Fueling the expansion is an increasing number of top technology companies moving into the city including Tesla. Its 5.3-million square-foot manufacturing plant employs more than 10,000 workers. Other notable companies include Boston Scientific Corporation (1,200 employees) Seagate Technology (1,050 employees) and Western Digital Electronics (1,300 employees). In addition, Facebook has embarked on a major expansion into Fremont, leasing one million square feet of space that could eventually house as many as 20,000 employees.
Rancho Luna Sol is located at 3939 Monroe Avenue, 1.32 miles from both the Fremont BART station ACE Centerville train station, providing immediate access to major employment hubs in the East Bay, downtown San Francisco, the Peninsula and Silicon Valley.
Built in 1980, Rancho Luna Sol offers one- and two-bedroom floor plans. Over the past six years close to $8 million has been invested in interior and exterior improvements to the property. Amenities include wood-style flooring, granite countertops, custom shaker cabinets, energy efficient appliances, large capacity washer/dryers and improvements to outdoor offerings.
Newmark Knight Frank's Mark Leary, John McCulloch and Robert Le Doux represented both Decron and the seller in the transaction.