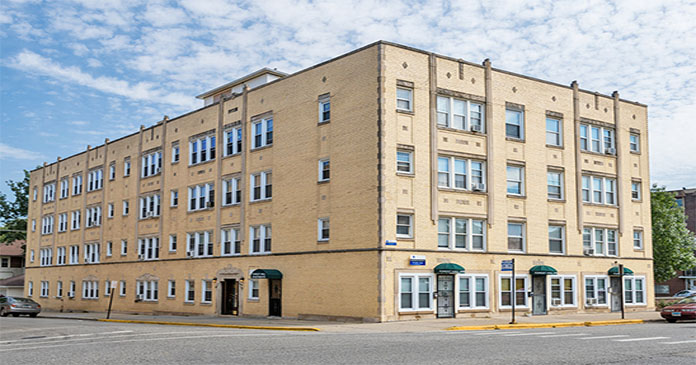 Interra Realty, a Chicago-based commercial real estate investment services firm, announced it facilitated the $3.15 million sale of 500 Des Plaines Ave., a 39-unit apartment building in Forest Park, Ill., a western suburb of Chicago.
Interra Realty Senior Managing Partner Joe Smazal was exclusively engaged to market the property on behalf of the private seller, while Managing Partner Pat Kennelly and Director Paul Waterloo represented the undisclosed buyer, who plans to make modest renovations to the building's kitchens and baths to raise rents to market level.
"This is a well-located, well-priced asset in a community close to downtown Chicago offering a value-add opportunity, predictable income and likely long-term growth," said Smazal. "We began marketing it before the COVID-19 pandemic, but the crisis had minimal impact on the deal terms. We were able to procure multiple offers for it and close in the midst of the pandemic."
Built in 1931, 500 Des Plaines Ave. has 33 studios and six one-bedroom units. The building last sold for $2.4 million in 2015 – a transaction also brokered by Interra Realty.
"This solid appreciation demonstrates the overall strength of these assets and continued appetite for them even in challenging times," Kennelly said. "Both longtime investors and newcomers to the space are drawn to the stability they offer in fulfilling a fundamental need: housing."
500 Des Plaines Ave. is located near Pace bus routes and is walking distance to the CTA Blue Line, which provides service to downtown Chicago. In addition, the Oak Park Metra station and Eisenhower Expressway are both less than 2 miles from the property. 500 Des Plaines also is a short walk from Forest Park's Madison Street entertainment district.