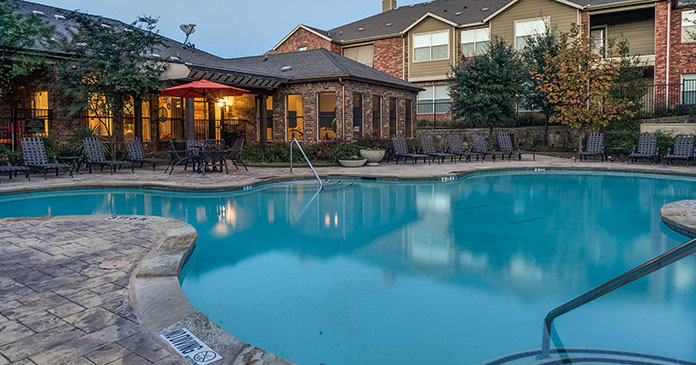 JLL Capital Markets announced that it has arranged a $181.54 million refinancing of four apartment communities totaling 1,489 units located around the Dallas area in North Texas.
JLL worked exclusively on behalf of the borrower, affiliates of Deerfield, Illinois-based Orion Residential Advisors ("Orion"), to secure four 10-year, fixed-rate loans through Freddie Mac. The loans, which are structured to provide five years of interest only payments at a very competitive rate, will be serviced by Holliday Fenoglio Fowler LP, a JLL company and a Freddie Mac Optigo℠ lender. The new loans refinanced four variable-rate Freddie Mac acquisition loans that the deal team originally secured on Orion's behalf in 2016.
The properties in the portfolio are Orion McKinney, a 453-unit community located in McKinney; Orion McCord Park, a 416-unit community located in Little Elm; Orion Prosper, a 312-unit community, and Orion Prosper Lakes, a 308-unit community, both located in Prosper. The properties were completed between 2008 and 2012 with an average unit size of 883 square feet across the portfolio. The properties feature modern common area amenities, including resort-style pools, fully equipped fitness centers, outdoor entertaining areas and inviting club rooms, as well as access to nearby parks and jogging trails.
The JLL Capital Markets team representing the borrower was led by Senior Managing Director Mona Carlton and Director Kristopher Lowe.
"The refinance was critical to our long-term strategic plan for the portfolio," said Orion President and CEO Dan Gumbiner, who led the effort on Orion's behalf. "We were determined to complete the transaction despite the current environment. Both JLL and Freddie Mac stood by us and completed the refinancing as originally contemplated. We could not be more pleased with the outcome," concluded Gumbiner.
Orion Residential Advisors  ("Orion") is a fully integrated multifamily investment and operating company that has acquired approximately $2.2 billion of residential real estate with institutional investors since 2004. Orion's Executive Team has over one hundred years of combined experience in multifamily acquisition, property and asset management, construction management and development. Collectively, they have been involved in excess of $5 billion of real estate transactions. Orion specializes in Core-Plus and Value-Add apartment communities in select markets throughout the United States.
JLL Capital Markets is a full-service global provider of capital solutions for real estate investors and occupiers. The firm's in-depth local market and global investor knowledge delivers the best-in-class solutions for clients—whether investment advisory, debt placement, equity placement or a recapitalization. The firm has more than 3,700 Capital Markets specialists worldwide with offices in nearly 50 countries.