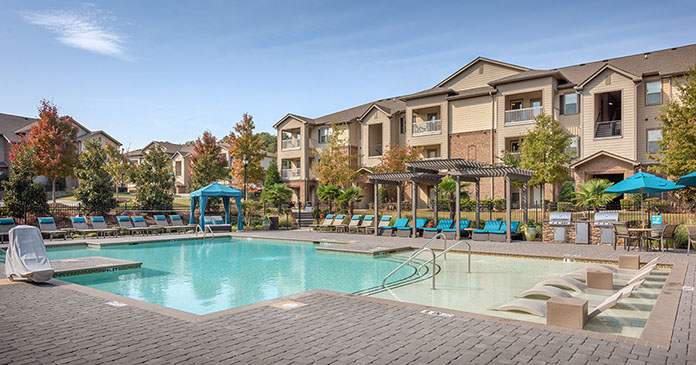 JLL Capital Markets announced that it has completed the sale and financing of Hawthorne at Lake Norman, a 232-unit, Class A multihousing community in Mooresville, North Carolina.
JLL represented the seller, Hawthorne Residential Partners, LLC, and procured the buyer, PassiveInvesting. Additionally, JLL worked on behalf of PassiveInvesting to secure the 10-year, fixed-rate loan through Freddie Mac. The loan will be serviced by Holliday Fenoglio Fowler LP, a JLL company and a Freddie Mac Optigo lender.
Hawthorne at Lake Norman is located 25 miles north of Uptown Charlotte at 118 Plantation Creek Drive in Mooresville, one of Charlotte's fastest growing communities. The property is nestled along the shores of Lake Norman and is just minutes from the area's largest employer, Lowe's Corporate Headquarters. Additionally, Hawthorne at Lake Norman has tremendous accessibility to Uptown Charlotte via the newly delivered I-77 Express Lanes and is surrounded by more than 5.5 million square feet of retail amenities. The 20-acre site is home to 18 two- and three-story garden-style buildings offering spacious units averaging 1,055 square feet each and 104 direct access garages. Community amenities at the 97 percent-leased property include a multimedia center, cybercafé, 24-hour fitness center with rock climbing wall, saltwater swimming pool, car wash station, pet park and exclusive boat club.
The JLL Capital Markets team representing the seller included Managing Directors Andrea Howard and Jeff Glenn, Senior Director Allan Lynch and Directors Caylor Mark and John Currin.
JLL's Capital Markets team representing the borrower was led by Managing Director Cory Fowler.
"A product of the area's dynamic growth story and Hawthorne's stewardship of the property, the sale of Hawthorne at Lake Norman represented one of our team's most competitive marketing campaigns," Howard said. "To close a transaction during these uncertain times requires tremendous operational performance at the property level and diligence by both the buyer and seller. This collective performance culminated in a successful sale of a differentiated asset that will offer PassiveInvesting outsized returns for years to come."
JLL Capital Markets is a full-service global provider of capital solutions for real estate investors and occupiers. The firm's in-depth local market and global investor knowledge delivers the best-in-class solutions for clients—whether investment advisory, debt placement, equity placement or a recapitalization. The firm has more than 3,700 Capital Markets specialists worldwide with offices in nearly 50 countries.