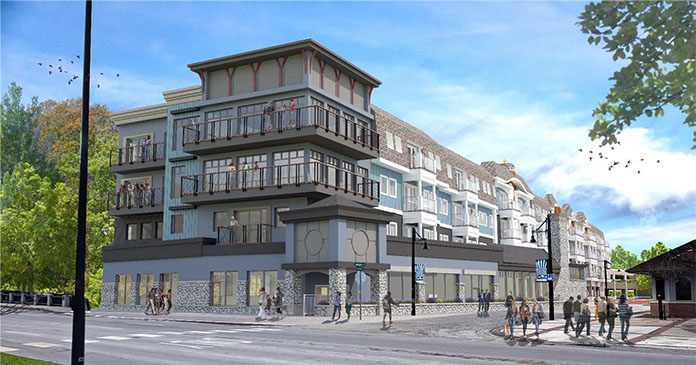 Knighthead Funding LLC, has originated separate loans totaling $37.3 million for the development of three multifamily projects in Michigan.
All three non-recourse loans range in term from 18 to 36 months and are secured by assets in distinctively different  markets. Knighthead worked with each borrower to develop an individualized strategy to allow each developer to successfully execute its business plan.
"These three transactions show how Knighthead's flexible source of capital was able to structure its debt according to the unique needs of each borrower; whether the project was mid-construction, ground up or extensive interior rehabilitation," said Knighthead Funding Principal, Jonathan Daniel.
In the largest of the financings, Knighthead provided a Michigan-based developer with a $17.7 million first mortgage loan to finance the completion of a four-story, 78-unit building with 162 parking spaces and 9,716-square-feet of ground-level retail in Traverse City.
The property has a mix of studio, one-, two-, and three-bedroom apartment homes that will feature high-end finishes like stainless steel appliances, polished concrete floors and washer and dryer units in each apartment.
One of the region's top high-end vacation spots, Traverse City has experienced significant growth over the last eight years, with a  population increase of approximately 6.4 percent, making Traverse City the largest city in the 21-county Northern Michigan region. The influx of permanent residents into the market has created a growing need for additional quality multifamily properties.
With the second financing, Knighthead provided Greatwater Opportunity Capital with a $10.8 million loan for the acquisition and renovation of two multifamily buildings in Midtown Detroit. The two buildings are located in Midtown's Cass Corridor in an opportunity zone and feature 118-units and 4,600 square-feet of retail space. Both properties will receive extensive renovations that will include building system upgrades and exterior work.
Midtown is one of Detroit's most rapidly growing neighborhoods with a 9.2 percent increase in the millennial population and a 26 percent growth in tech jobs since 2015. The market's strengthening economy and steady population growth has created continued need for quality multifamily housing. As a result, even with the consistent delivery of new supply to market, over the past five years annual rent growth has never been below 2.5 percent.
Over the last several years, Greatwater, whose principals are Detroit natives, have focused on investing in Detroit's neighborhoods, producing positive local outcomes and superior returns, assembling a portfolio of 510 units across a dozen multifamily properties.
Knighthead also provided an $8.8 million loan for the construction of a 19-unit condominium building in Downtown Ann Arbor.
Branded "The Gallery," the property, which is 50 percent pre-sold, is located in the Old West Side neighborhood and within walking distance to the University of Michigan and downtown Ann Arbor, creating interest from alumni and professionals who work in downtown Ann Arbor.
"Based on the Sponsor's development experience, strong presale numbers, unit layouts and downtown location, we are confident in the success of the business plan."  said Knighthead Senior Associate, Peter Illuzzi.
Sponsorship is headed by Alex de Parry, who founded Ann Arbor Builders, Inc. in 1971, and who is highly experienced with a successful track record of multi-family, single-family and mixed use construction, development and renovations, including the nearby Mark Condominium, which was completed in 2016.