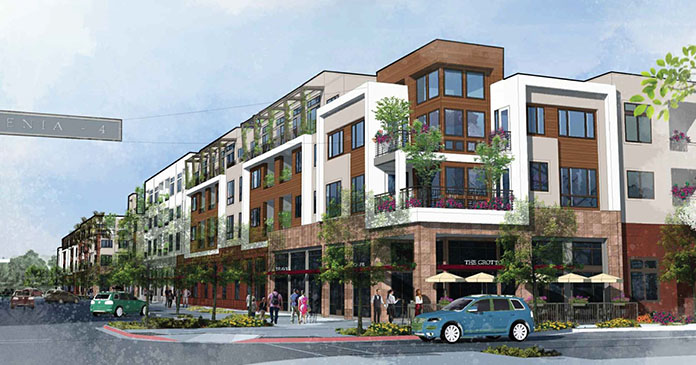 The Millenia master plan development has closed on the purchase of land for an eight-building, 480-unit multifamily project in Otay Ranch. The project is a joint venture among MetLife Investment Management, Allstate and Ryan Companies US, Inc., and will be part of Allstate's investment portfolio.
Millenia is a 210-acre community developed by Meridian Development for the landowner Stratford Land and includes retail, office and multifamily residential features. According to SANDAG, the San Diego region's planning agency, the area's multifamily industry is currently experiencing a 55,000-unit shortfall, which is increasing by 5,000 to 8,000 units per year. This project will help meet that demand and will be the fourth and final market-rate apartment deal constructed in Millenia.
"Ryan and our experienced partners, including MetLife Investment Management, Allstate, Meridian Development, Stratford Land and the City of Chula Vista, are all passionate about providing high-quality living options and amenities for the community," said Mike Mahoney, senior vice president of real estate development, Ryan Companies. "We are excited to deliver a unique multifamily development that will further distinguish Millenia and provide a fresh approach to renting within South San Diego County."
The 512,000 square foot project will include 480 market rate luxury apartment units, 16,000 square feet of commercial space and an abundance of amenities. The residential units will range between 626 square feet and 2,336 square feet and consist of one, two, and three-bedroom flats; two-story mezzanine lofts; live-work units and three-story townhomes.
"We are elated to welcome Ryan Companies to Millenia; their resources, expertise and urban insight make them the perfect partner for Millenia," said Guy Asaro, president and CEO, Meridian Development. "This project will anchor the core of Millenia, an area designated as 'The Mix'—a destination neighborhood that will combine residential, office, arts and nightlife."
The community will include several amenities: a resort-style pool and spa, clubhouse kitchen with lounge, community co-working spaces, fitness center and leasing center, two large dog run areas, rooftop deck, bocce court, bike maintenance and storage facilities, a speakeasy, live music studio and community green areas including gardens.
ARK Architects, the project architect, created a unique design, while complementing the character of the surrounding area. Design Line Interiors is focused on producing an inviting and comfortable interior for future residents. Other consultants include Hunsaker & Associates as the civil engineer and GMP as the landscape architect.
In addition to being co-owner and developer, Ryan Companies will be the general contractor and expects to break ground this Summer and expects the first building to open in late 2021. Pre-leasing will begin in August 2021.