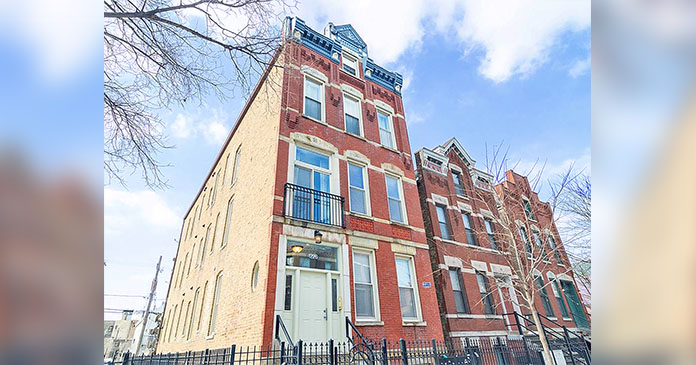 Interra Realty, a Chicago-based commercial real estate investment services firm, announced it brokered the $1.8 million deconversion sale of 1226 N. Greenview Ave., an eight-unit multifamily building in Chicago's Wicker Park neighborhood. The price per unit was $225,000.
In brokering the sale, Interra Managing Partner Patrick Kennelly and Director Paul Waterloo were able to help 1226 N. Greenview's association navigate the deconversion process, through which condominiums are sold to a single buyer and reverted to rentals. Interra procured multiple offers, with the winning buyer being a private local investor.
"We continue to see strong demand for rental housing in Chicago's neighborhoods and especially in Wicker Park, where single-family home conversions have reduced the existing apartment stock," said Kennelly. "Despite the higher approval threshold now needed to proceed with deconversions in Chicago, these deals are still getting done in desirable, high-barrier-to-entry submarkets.
"It's also encouraging this is the third deal Paul and I have been able to close during the COVID-19 pandemic," he continued. "We've seen the market adapt to circumstances outside of anyone's control, with all parties demonstrating a willingness to work together to get deals across the finish line, even if it takes a little longer."
Built in 1888 and last renovated in 2006, 1226 N. Greenview has six one-bedroom and two two-bedroom units. Residences feature hardwood floors, in-unit laundry and off-street parking. The building was 75 percent occupied at the time of sale.
1226 N. Greenview is located near the Division Blue Line stop, several CTA bus routes and the Kennedy Expressway. It also offers proximity to Wicker Park's many bars, restaurants and shops.
The transaction is the sixth deconversion sale brokered by Kennelly and Waterloo since 2017.