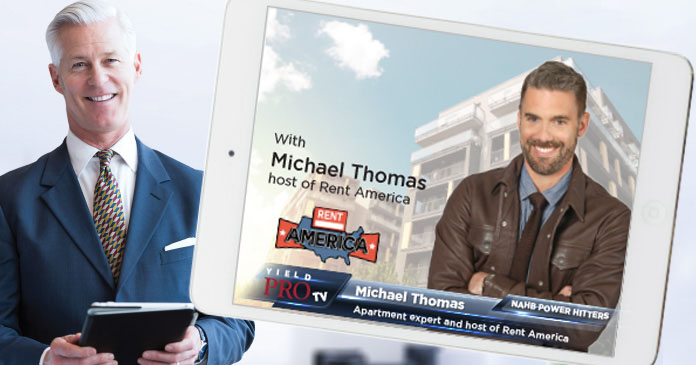 July 1, 2020, marked the 60th episode of Rate Desk on Yield Pro TV. Viewership has continued to climb since the April 2 show launch. The show's producers are extending the Yield Pro TV format to feature more interviews with industry experts in the weeks ahead.
Apartment expert Michael Thomas is host of TV show Rent America and of Yield Pro TV's Rate Desk. Rate Desk is a short-format show that provides quick reference to the day's apartment financing rates and other information impacting the financing environment and outlook.
Thomas will also host NAHB Power Hitters, another short format show where he will interview NAHB members, staff, economists and others, on news and events of interest to the multifamily industry.
About Yield PRO TV
Yield PRO TV is a product of Yield Pro magazine. The print publication includes a national readership of 25,000 multifamily owners and operators, including the top 50 REITs and other small to medium multifamily businesses. The print edition also includes a once-annual bonus readership of 50,000. Launched in 1990, Yield Pro is the oldest and only independently owned and operated news organization on the operational side of the rental space.
PRO covers news and strategy for apartment owners and operators driven to increase their asset value. The publication covers streamlined processes and best practices with one goal: Improve the profitability and performance of apartment operations. PRO readers are influencers. They are involved in the finance, development and operation of multifamily properties. They span developers, owners, CEOs, presidents, asset managers, regionals—those critical to asset performance. They are members of the industry's top organizations including National Association of Home Builders, National Apartment Association and National Multifamily Housing Council.
Yield PRO TV is an extension of Yield PRO magazine. The publication's digital readership is over 40,000 and the website reaches over 100,000 readers monthly.
About NAHB
NAHB represents the largest network of craftsmen, innovators and problem solvers dedicated to building and enriching communities. Operating at the local, state and national levels, the NAHB Federation helps its members gain a competitive advantage through:
Knowledge: Offers education and other resources members need to expand their businesses and achieve personal success.
Networking: Creates opportunities within a community of home building professionals for members to build key relationships and increase their profitability.
Expertise: Develops solutions for members' businesses through access to experts who provide insight and information.
Advocacy: Improves the business environment on Capitol Hill, in state capitols and in local communities by eliminating excessive regulations.
Savings: Saves members money through advocacy efforts, exclusive services and products, and the Member Advantage program.