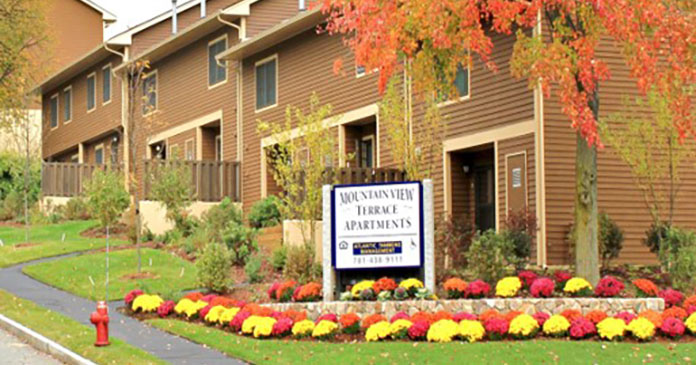 MassHousing  has provided $32.7  million in  affordable housing financing to  an affiliate of Atlantic Tambone Management, LLC to  preserve and  extend the affordability  for lower-income  senior citizens and families  for at least  31 years at the  194-unit  Mountain View Terrace in Stoneham.
"We are pleased that the affordability for the lower-income seniors and families at Mountain View Terrace will be preserved for the long term," said MassHousing Executive Director Chrystal Kornegay. "Our partnership with Atlantic Tambone Management and Rockport Mortgage will ensure that the residents can continue to live in Stoneham and for many of the senior citizens there, likely remain in the community where they have lived for many years."
"Since its completion Atlantic Tambone Management has enjoyed a terrific relationship with MassHousing and together have provided quality affordable housing to all of its tenants over the past 40 years" noted Anthony A. Tambone, Vice President of Atlantic Tambone Management LLC.
Atlantic Tambone Management, LLC refinanced  Mountain View Terrace through MassHousing's Multifamily Accelerated Processing (MAP)/Ginnie Mae Joint Venture Initiative with lender partner  Rockport Mortgage Corporation.  MassHousing  offers the MAP/Ginnie Mae loan program to the owners of rental housing through the U.S. Department of Housing and Urban Development (HUD). HUD provides  expedited Federal Housing Administration (FHA) insurance approvals through the MAP program.  MassHousing  surpassed  $1 billion in cumulative MAP lending earlier this year, and the Agency has built the largest MAP lending program of any state housing finance agency in the nation.  
The combination of FHA insurance and a  Ginnie Mae guarantee  enables  borrowers  to access  taxable  mortgage  financing  with lower interest rates,  while preserving and extending affordability for hundreds of low-income  individuals,  senior citizens and families. MassHousing is providing  Atlantic Tambone Management LLC's affiliate, 7th AP Company LP, with a $32.7 million, 35-year permanent loan.     
"Extending the affordability of Mountain View Terrace for 31-years is a huge win for the community," noted Dan Lyons, Managing Partner and President of Rockport Mortgage Corporation. "This property has been well-maintained over the years and with the repairs being done as part of this financing, Mountain View Terrace will remain a stable affordable housing resource for Stoneham. We are very pleased to continue our work with both the owners of Mountain View Terrace and MassHousing."
Developed in 1981 at 27 Mountain View Drive, Mountain View Terrace was refinanced by MassHousing in 2010, at which time the property was substantially renovated. The 194 units are contained in three, five story apartment buildings, and four, two-story townhouse buildings. 
There are 128  one-bedroom apartments, 50  two-bedroom apartments,  10 three-bedroom apartments,  and 6 four-bedroom apartments.  All of the apartments are subsidized by a federal Section 8 Housing Assistance Payment contract, which has been extended by 20 years and will ensure affordability at Mountain View Terrace for at least 31 years. 
In addition to the MassHousing  financing for Mountain View Terrace, the Agency has financed 294 home mortgage loans  in  Stoneham  totaling $46.3  million in financing.