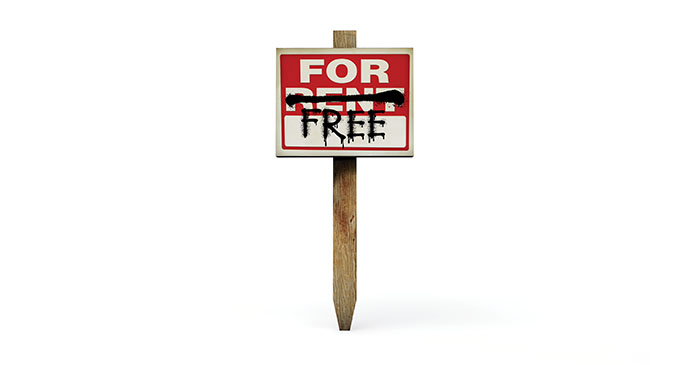 As Americans stagger through a bewildering pandemic summer, buffeted by shutdowns and job losses, millions face each coming month with an additional dread: making their rent payments.
In response to the crisis, numerous states and localities have enacted eviction bans and rent deferral schemes. Unfortunately, such extreme measures are unjust, unlawful and counterproductive.
Governments have taken varied approaches to the threat of people being ousted from their homes en masse. California's courts closed their doors to all eviction proceedings, even if the reason for eviction had no relationship to the pandemic. Seattle banned evictions related to non-payment so long as a tenant can "self-certify" they aren't paying rent due to economic hardship brought on by the pandemic, and landlords must allow tenants 18 months from the end of the city's state of emergency to repay that money. And Ithaca, N.Y., became the first—but likely not the last—city to attempt to forgive rent altogether.
While it may seem intuitive to absolve renters of their obligations during an emergency, such laws force one group to bear the burden of the crisis: landlords. They don't get much sympathy, but landlords are often ordinary people facing the same challenges we all face.
Consider Marie Baptiste, a Haitian immigrant in Massachusetts who rents out the house she bought after scrimping and saving for a decade. A registered nurse, Marie has been unemployed since June due to an injury. Marie needs to live on that rental income, but she hasn't received a dime since October 2019. Even though her tenants stopped paying well before the crisis, she couldn't evict them once Massachusetts banned "non-essential" evictions—basically any eviction except the most extreme circumstances. Now she's consigned to sucking her retirement fund dry.
Meanwhile, both her tenants work full-time, don't pay her and refuse to communicate with her. Her situation isn't likely to improve any time soon: The governor just extended the state rent moratorium, and the legislature is poised to create a new moratorium that will extend for a full year after the governor lifts the state of emergency.
Landlords operate like any other business. Some are large and can weather months of deferred rent; others are small and, like many small businesses, live a few bills away from bankruptcy. Yet while the CARES Act and a flurry of state and local measures offer assistance to small businesses and homeowners, small landlords are left in the lurch. They typically can't get federal small business loans, and they've become a target for punishment instead of reprieve.
There are better ways to help renters. Governments should remove maximum occupancy requirements to help shelter those who lose their housing. They can also pay hotels and similar facilities for temporary housing should a rash of evictions erupt; "just compensation" clauses in the federal and state constitutions, and state laws that allow the "commandeering" of private property in an emergency, allow for that. Governments can also offer rental assistance for renters and tax relief for landlords who agree to forego or lower rent. And if governments do suspend evictions and defer rent, they should do so as narrowly as possible, limiting the length of the moratoria to ensure that it doesn't reach beyond the scope of the emergency.
But if governments insist on tossing landlords on the pyre, they're in for a fight. Baptiste and other landlords across the country have filed lawsuits challenging eviction bans and rent deferrals, focusing primarily on two constitutional arguments: unconstitutional taking of property without just compensation, and unconstitutional interference with residential lease terms. Forcing a landlord to suffer a squatter indefinitely commandeers the landlord's property as surely as if the government directly seized it. And the Constitution directly prohibits states or cities from impairing the obligations of contract. Ripping out the central term of a rental agreement—monthly rent installments—is a severe impairment that warrants relief from the courts.
We don't expect grocers to hand out food for free, and we cannot expect the same of small landlords if we want them to carry on providing an essential service. Many landlords won't survive months of rent famine, and widespread bankruptcies in the rental housing market will not help the longer-term housing crisis that our country has wrestled with for decades. We must continue to honor individual rights during calm and calamity alike, or they aren't really rights at all.
---
Source This op-ed was originally published by New York Daily News on August 13, 2020.