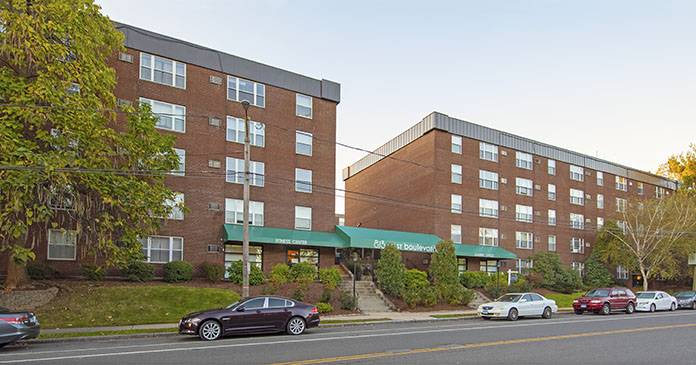 CBRE announced the 1031 sale of the Hartford Workforce Housing Portfolio, which consists of 217 apartments, for $16.3 million. The sale included 873 West Boulevard and 748 New Britain Avenue in Hartford, Conn., comprising 165 and 52 units, respectively.
CBRE Institutional Properties' Jeffrey Dunne, Gene Pride, Eric Apfel, Jeremy Neuer, Steven Bardsley and David Gavin in collaboration with Simon Butler and Biria St. John from CBRE's Boston office represented the owners, a partnership between Forum Capital Partners and Cantor Real Estate, and also procured the purchaser, 25th Century, a private New York -based investor.
"We are pleased to have represented Forum Capital Partners and Cantor Real Estate in the sale of two highly desirable workforce housing communities in Hartford," states Dunne, a Vice Chairman at CBRE. "The offering received strong interest from buyers throughout New England and the Greater New York region."
CBRE's Pride added, "We anticipate the buyer will do well with the communities as they offer existing stable operations as well as the opportunity to enhance the current apartments, which are well-positioned in this current economy."
25th Century plans to invest heavily in value-add upgrades to improve the quality of the asset. Built in the mid-1950's and early 1970's, both properties feature on-site secured parking and laundry rooms. 873 West Boulevard residents also have access to storage and a fitness center.
This sale follows several other notable workforce housing sales that Dunne's CBRE team completed in 2019 and 2020, including La Bonne Vie ($232.5 million) in East Patchogue, Long Island, the Home Properties Long Island Portfolio ($472.5 million), The Northern Central NJ Workforce Housing Portfolio ($146 million), Hawthorne Court in Central Islip ($94.25 million), and Boulevard & Skyline Apartments in Hasbrouck Heights, NJ ($75.25 million).
CBRE Institutional Properties is currently marketing for sale Gaslight Commons, a 200-unit apartment community adjacent to Third & Valley, a 215-unit apartment community in South Orange, NJ, The Royce, a 340-unit apartment community in Trumbull, Conn.; The Light House, a 50-unit apartment community in Port Chester, NY, 414-unit development site in Middletown, Conn. and 35 Lawton St., a 600+ unit development site in New Rochelle, NY.