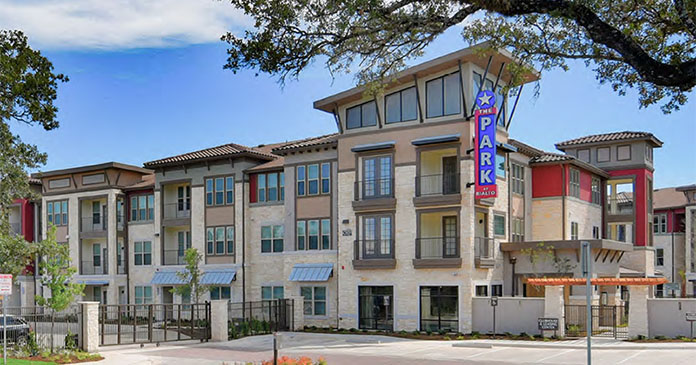 JLL Capital Markets announced that it has closed the sale of and arranged acquisition financing for the Park at Rialto, a newly constructed, 274-unit, garden-style multihousing community built by GenCap Partners, Inc. in the northwest part of San Antonio, Texas.
JLL worked on behalf of Covenant Capital Group, to secure the seven-year, fixed-rate loan through Freddie Mac. The loan will be serviced by JLL Real Estate Capital, LLC., a Freddie Mac Optigo lender. Covenant Capital Group purchased the asset from GenCap Partners, Inc., in a JLL-brokered transaction.
Park at Rialto was constructed in 2018 and offers an urban lifestyle due to its proximity to major employment hubs, retail, entertainment and recreational amenities. The community, with an average unit size of 882 square feet, is situated on 9.3 acres and is National Green Building Standard certified.
"The central Texas markets like San Antonio and Austin are very attractive investment markets right now, and we are seeing growing demand for not only new apartments but investors willing to invest in this growth," says Gary Williams, CFO of GenCap Partners, Inc. "That is why we have three new starts in these growing suburban areas."
The JLL Capital Markets team that led the financing efforts on behalf of the borrower was led by Senior Director CW Sheehan and Analysts Alastair Barnes and Scott Dickey. The JLL Capital Markets team representing the seller was led by Senior Managing Director Sean Sorrell.
"Park at Rialto is a great acquisition for Covenant Capital Group, as they expand their portfolio in Texas," Sheehan added. "The property offers excellent access to major employers and will benefit from the continued growth between Boerne and San Antonio."
JLL delivers multi-housing investors a full range of solutions through one diverse, integrated platform. The division employs approximately 400 professionals who provide comprehensive investment sales and disposition services with access to thousands of domestic and foreign investors. JLL is also one of the nation's largest affordable and conventional multi-housing and seniors housing lenders with comprehensive loan underwriting, asset management and loan servicing capabilities. Agency/GSE lending and loan servicing are performed by JLL Real Estate Capital, LLC, a wholly owned indirect subsidiary of Jones Lang LaSalle Incorporated. Loans made or arranged in California are pursuant to a California Financing Law license.
JLL Capital Markets is a full-service global provider of capital solutions for real estate investors and occupiers. The firm's in-depth local market and global investor knowledge delivers the best-in-class solutions for clients—whether investment advisory, debt placement, equity placement or a recapitalization. The firm has more than 3,700 Capital Markets specialists worldwide with offices in nearly 50 countries.