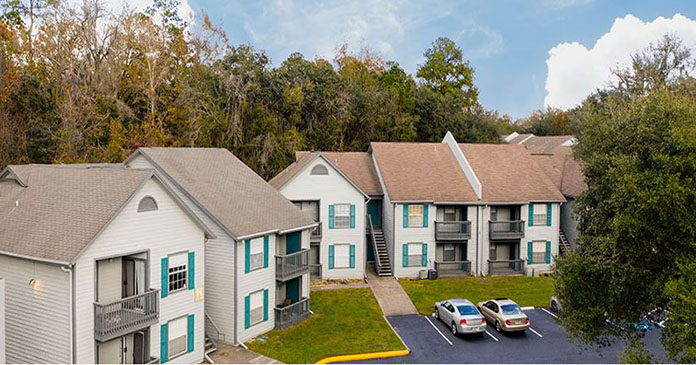 JLL Capital Markets announced the arrangement of $10.368 million in acquisition financing for the Candleglow Apartments located at 1071 Candlelight Blvd. in Brooksville, Florida.
JLL worked on behalf of the borrower, Beachwold Residential, to secure the 10-year, floating-rate loan through Freddie Mac. The loan will be serviced by Holliday Fenoglio Fowler LP, a JLL company and a Freddie Mac Optigo lender. Beachwold is under agreement to purchase the property and will then launch a renovation program following its acquisition.
The interior renovation will include new stainless-steel appliances, resurfaced counters, cabinetry, backsplashes, flooring, hardware and fixtures and appliances in all units. The exterior renovations will include upgraded signage, landscaping, community clubhouse and pool deck. Current community amenities include a Bark Park, tennis and racquetball court, resort-style swimming pool and picnic area.
The Candleglow Apartments are 100 percent occupied and consist of 152 garden-style apartments. The property has three floorplans: The Azalea, which are one-bedroom/one-bathroom units averaging 552 square feet; The Willow, which are one-bedroom/one-bathroom units averaging 680 square feet; and The Oak, which are two-bedroom/two-bathroom units averaging 820 square feet.
The JLL Capital Markets team representing the borrower was led by Senior Managing Directors Mona Carlton and Elliott Throne as well as Directors Jesse Wright and Amit Kakar.
"This acquisition is another great example of Beachwold's ability to find solid assets in non-primary Florida markets to add to their existing portfolio," Throne stated. "The financing provides an aggressive interest rate and 10-year term, but also a floating rate structure that offers true flexibility to execute their future business plan."
JLL Capital Markets is a full-service global provider of capital solutions for real estate investors and occupiers. The firm's in-depth local market and global investor knowledge delivers the best-in-class solutions for clients—whether investment advisory, debt placement, equity placement or a recapitalization. The firm has more than 3,700 Capital Markets specialists worldwide with offices in nearly 50 countries.