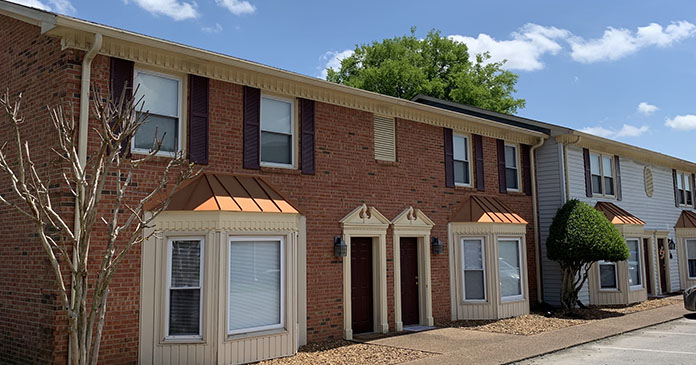 Multifamily investment firm Magma Equities has acquired Charleston Hall Apartments, a 194-unit garden-style community in Smyrna, Tennessee (Nashville MSA) in an off-market transaction valued at $27 million.
Charleston Hall increases Magma Equities' holdings in the Nashville MSA to 557 units. Magma Equities, a vertically integrated real estate organization that focuses on repositioning Class B apartment communities throughout the U.S., entered the Nashville market in 2018 with the acquisition of a two-property, 363-unit portfolio. Magma Equities currently manages a portfolio of multifamily assets located in Washington, California, Arizona, Texas, Tennessee and North Carolina.
Charleston Hall is located at 351 Sam Ridley Parkway E, in the town of Smyrna, 20 miles south of Downtown Nashville. Job growth, fueled by its largest employer, the Nissan Manufacturing Assembly Plant with 8,000 workers, is expected to increase by nearly 50 percent over the next 10 years. Located two miles from Charleston Hall, the six million-square-foot plant is one of the top producing facilities in the auto industry and has the capacity to produce an industry best 640,000 automobiles per year, according to the automaker. This combined with its proximity to Nashville, low cost-of-living, great school system and small city feel, has made Smyrna one of the fastest growing cities in the region, with a population growth of more than 25% over the past 10 years. This has created tremendous demand for quality housing in Smyrna, where much of the inventory was built before 1980, according to Magma Equities Principal Ryan Hall.
"Our goal is to create a property that will be on par with the competitive set, but at a price point that will entice potential renters with a value proposition unavailable in the market," said Hall.
Charleston Hall is a low-density community with a mix of one-, two- and three-bedroom apartments and townhomes in 22 two-story residential buildings on an 8.9-acre lot.  Common area amenities include a swimming pool; basketball, tennis and volleyball courts; children's playground and a leasing center. The seller is a local investor which has owned the property since it was developed in 1986. A second phase was completed in 1996.
In addition to bringing in professional management to improve operations, Magma Equities plans a multimillion-dollar capital improvement program that will enhance the property exterior, grounds and maximize the desirability of the interior units to better appeal to the submarket demographics. Magma Equities will immediately begin common area improvements that will include an upgrade to the pool area as well as new landscaping designed to create a park like setting with built-in BBQs and picnic tables.  Renovations to apartment interiors, which will take place as units roll, will include new countertops, appliances, cabinet fronts, flooring, fixtures and lighting.
Kirkland Companies represented the  seller in the off-market transaction.
Magma Equities has engaged Nashville-based Elmington Property Management, to manage the property.