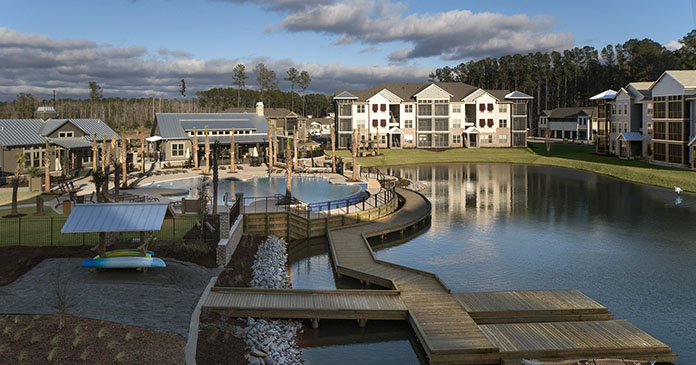 Passco Companies, a privately held California-based commercial real estate company that specializes in acquisition, development, and property and asset management throughout the U.S., has acquired One Hampton Lake, a 330-unit Class A multifamily community in Bluffton, South Carolina. The property was purchased from Southeastern Company for $78 million in an off-market transaction.
Based on an established relationship with the seller, the firm was able to source this best-in-market asset directly and complete the transaction seamlessly, according to Colin Gillis, Vice President of Acquisitions at Passco Companies.
"While these past several months have involved unprecedented considerations, interruptions, and increased scrutiny when sourcing new acquisitions, we've continued to seek out opportunities to add top-of-the-market multifamily assets in irreplaceable locations to our portfolio," explains Gillis. "One Hampton Lake, which sits on a large, picturesque, lake within a highly affluent neighborhood, exemplifies this strategy. The quality of the property is unmatched and the site cannot be replicated."
According to Gillis, One Hampton Lake, which has an average household income of $115,000, has maintained high occupancy and leasing momentum throughout the pandemic.
Gillis also notes that Bluffton was recently named the fastest growing town in South Carolina and has seen an influx in retirees with stable incomes. Further, the region benefits from multiple economic drivers and strong demographics even in the current environment, demonstrated by an unemployment rate that has remained well below the national average, which peaked in April, and experienced a quick recovery.
"Bluffton is located between Interstate 95 and Hilton Head Island and is also within convenient commuting distance of both Beaufort and Savannah, Georgia," says Gillis. "The Hilton Head-Bluffton-Beaufort MSA's economic growth has easily outperformed the nation in recent years and is well positioned to continue in this direction. The region benefits from multiple economic drivers, including booming tourism and healthcare industries, the Port of Savannah, Parris Island, and other major area employers including Gulfstream and Wayfair."
Gillis adds that the state of South Carolina has a business-friendly environment with tremendous incentives, further aiding the exponential growth.
"We were fortunate to be able to acquire One Hampton Lake from Southeastern Company, after previously purchasing Grand Oaks at Crane Creek in Augusta, Georgia, from the firm last year," continues Gillis. "Our familiarity and strong relationship with the seller were crucial to us being selected to work on this deal and being able to complete transaction from start-to-finish within 45 days, despite limitations resulting from the pandemic and social distancing orders. We are optimistic that we will see more opportunities going forward to acquire exceptional assets in secondary and tertiary suburban markets that have proven resilient through this time."
Originally built in 2018 with a Phase II expansion completed this year, One Hampton Lake is a garden-style community that sits on 35 acres. The property offers one-, two-, and three-bedroom units which feature quartz countertops, stainless steel appliance package, front-loaded washer/dryer, and screened-in first floor private patios and screened-in balconies on the second and third floors. Approximately 75 percent of the apartment units offer views of Hampton Lake.
On-site community amenities include a resort-style infinity pool overlooking the lake with a boardwalk deck, kayak launch and storage, pet park and wash station, state-of-the-art fitness center, screened-in outdoor lounge with fireplace, outdoor kitchen and grilling areas with picnic table. Greystar will continue to serve as property manager at the community.
One Hampton Lake is located at 11 Parklands Drive in Bluffton, South Carolina.
Chris Black and Caleb Marten of KeyBank Real Estate Capital's Commercial Mortgage Group arranged acquisition financing on behalf of Passco Companies.