Avanath Capital Management, a private real estate firm that invests in affordable and workforce housing properties throughout the U.S. on behalf of institutional investors, has announced the acquisition of three affordable housing communities: two in Detroit, Michigan, and one in Orange City, Florida, which is near Orlando. The three properties add a total of 290 units to Avanath's existing portfolio of more than 10,000 units across the nation.
"As a leading investor in affordable housing communities in key markets throughout the country, Avanath is adept at identifying opportunities to provide much-needed affordable housing and improving performance of those properties via our proven strategy," says Daryl Carter, Founder and CEO of Avanath Capital Management. "The Detroit and Orlando markets align well with our approach, which includes selecting markets and specific locations that share strong demographic trends relative to job/population growth, are near employment and transportation centers, and have barriers to developing new supply."
In addition, Avanath's new acquisitions afford the company increased scale and efficiency in the Detroit and Orlando markets, according to Carter.
"Since our portfolio already contains properties in both markets, the newly acquired assets will allow us to further leverage economies of scale in order to better serve lower-income renters in those regions and generate stronger returns for our investors," says Carter.
Avanath has purchased the following properties: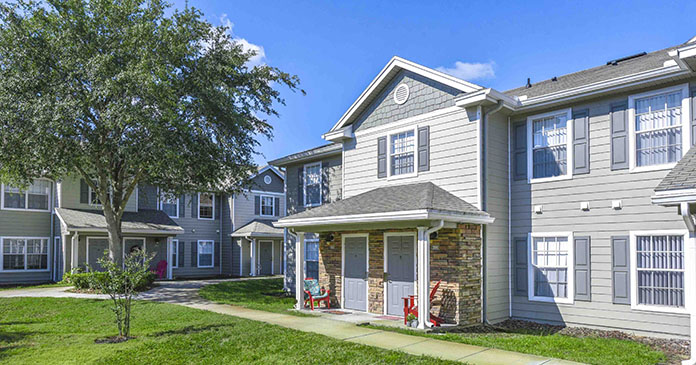 Saxon Trace Apartments in Orange City, Florida
Avanath Capital Management has acquired Saxon Trace Apartments, a 192-unit family property in Orange City, Florida, for $24.6 million.
Located approximately 30 miles from Orlando, Florida, Saxon Trace was attractive to Avanath because the firm was able to purchase it at a low basis in a market that has boomed over the last ten years, says Carter. According to CBRE, Orlando's total metro population has grown over 23 percent in the last decade, with total employment jumping almost 36 percent and vacancy hovering at around a 25-year low and positive annual rent growth since 2010.
Avanath currently owns four other properties in the Orlando market, including Academy at Waterford Lakes, Acclaim at Conroy, Affinity at Millenia, and Brooke Commons, allowing for increased scale and efficiency in this market, according to Carter.
"Saxon Trace is also located in the heart of the retail and commercial corridor of Orange City, which provides this asset with a competitive locational advantage over other multifamily developments in the area," explains Carter.
The property has maintained at least 98 percent occupancy over the last three years due to the lack of competition of affordable housing in the area.
Avanath plans to implement a capital improvement plan to the property that includes a new roof, HVAC replacements and exterior paint.
Saxon Trace Apartments is located at 30 Saxon Trace Way in Orange City, Florida.
North End Village in Detroit, Michigan
Avanath Capital Management has also acquired North End Village, a 50-unit affordable apartment community in Detroit, Michigan, for $2.1 million.
"As a native of Detroit, I'm excited to invest in my hometown – in fact, this property is not too far from my high school," says Carter. "There has been a noticeable revitalization in the City of Detroit in recent years, spurred on by investment activity, new developments, and other social programs. Amazon recently announced the development of a new 3.8 million square-foot distribution center in the city that will add 1,200 total jobs to the area. The city has worked to increase its manufacturing, logistics, healthcare, trade, tourism, finance, and technology sectors. In addition, tremendous capital investment into the automobile sector is restoring what was, at one time, Detroit's sole economic driver."
In 2019, Fiat Chrysler announced plans to invest $1.6 billion into converting the Mack Avenue Engine Complex and will commit an additional $900 million into improving the Jefferson North Assembly Plant, which will add 5,000 more jobs to Detroit. Additional investments in the city include a $5.6 billion investment into the revitalization of Downtown Detroit since 2009 by Dan Gilbert, billionaire investor and owner of Quicken Loans and Bedrock Capital. Gilbert has moved the headquarters of his two companies to Detroit and is set to complete the development of Hudson's Site, which will be the city's tallest building, in 2022.
Other ongoing developments include the Michigan Central Train Depot, a $740 million investment from the Ford Company that will renovate office space, develop retail and residential, and renovate the long-vacant Michigan Central Station; the Strategic Neighborhood Fund, an initiative that brings community developers and public capital together to help distressed neighborhoods surrounding Downtown and Midtown Detroit; and the Entrepreneurs of Color Fund, an $18 million fund funded by J.P. Morgan and the Kellogg Foundation that provides capital to borrowers who are otherwise challenged in securing more traditional forms of financing.
"Efforts such as these encourage private investment and are having a substantial impact on Detroit's submarkets," says Carter. "Avanath is thrilled to invest in Detroit and take an active role in the revitalization of the city. Detroit is a market that has rebounded significantly over the past decade and we believe the growth will continue."
Built in 2005, North End Village is 100 percent occupied and consists of four two-story structures totaling 56,238 square feet. The unit mix includes 68 percent two-bedroom/one-bathroom units and 32 percent three-bedroom/two-bathroom units.
Avanath is planning improvements to the property that include the addition of LED lighting, landscaping, exterior paint, balcony repair, and asphalt and parking repairs.
"These enhancements will contribute to the long-term value of the property, as well as provide a high-quality environment to residents," says Carter.
North End Village is located at 1000 Alger Street in Detroit, Michigan.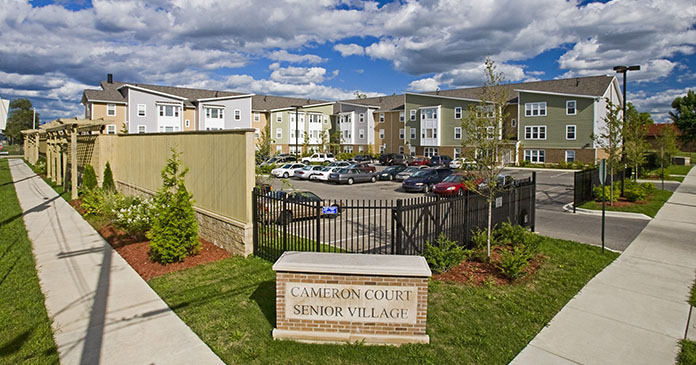 Cameron Court in Detroit, Michigan
Avanath Capital Management has also acquired Cameron Court, a 48-unit affordable seniors housing community in Detroit, Michigan for $1.34 million.
Built in 2008, the property is 100 percent occupied and consists of one three-story structure totaling 38,784 square feet. The unit mix includes 18 one-bedroom/one-bathroom units and 30 two-bedroom/one-bathroom units.
"The purchase of Cameron Court increases the number of units that Avanath owns in the Detroit market to 100 units, allowing us to realize significant cost savings," says Carter. "In addition, Cameron Court is a highly stabilized, attractive seniors asset that has maintained high occupancy historically. And at approximately $28,000 per door, we are buying this property at a very low-cost basis."
Avanath will implement a series of renovations to the property including hallway painting, exterior fencing and repainting, new common-area furniture, a community room renovation, and the construction of a new senior wellness center.
Cameron Court is located at 8600 Cameron Street in Detroit, Michigan, directly across the street from North End Village. In addition to managing both properties, Avanath also currently owns and manages Acclaim at Ford Lake, a 184-unit property located in Ypsilanti, Michigan, approximately 35 miles from Cameron Court and North End Village.