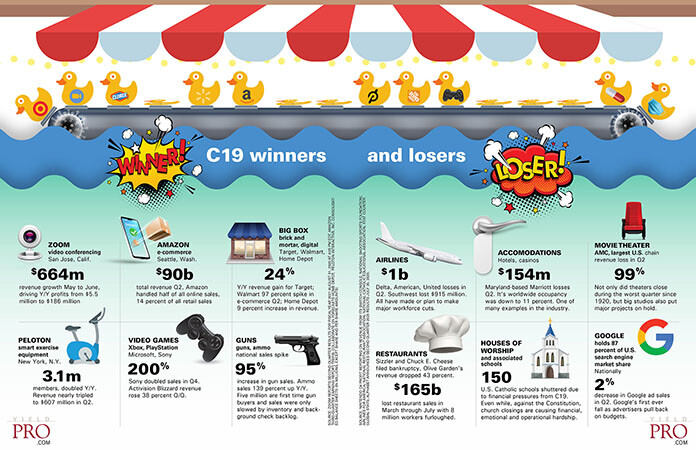 ZOOM
video conferencing, San Jose, Calif.
$664 million revenue growth May to June, driving Y/Y profits from $5.5 million to $186 million
AMAZON
e-commerce, Seattle, Wash.
$90 billion total revenue Q2, Amazon handled half of all online sales, 14 percent of all retail sales
BIG BOX
brick and mortar, digital Target, Walmart, Home Depot
24% Y/Y revenue gain for Target; Walmart 97 percent spike in e-commerce Q2; Home Depot 9 percent increase in revenue.
PELOTON
smart exercise equipment, New York, N.Y.
1 million members, doubled Y/Y. Revenue nearly tripled to $607 million in Q2.
VIDEO GAMES
Xbox, PlayStation, Microsoft, Sony
200% Sony doubled sales in Q4. Activision Blizzard revenue rose 38 percent Q/Q.
GUNS
guns, ammo national sales spike
95% increase in gun sales. Ammo sales 139 percent up Y/Y. Five million are first time gun buyers and sales were only slowed by inventory and background check backlog.
AIRLINES
$1 billion. Delta, American, United losses in Q2. Southwest lost $915 million. All have made or plan to make major workforce cuts.
ACCOMMODATIONS
Hotels, casinos
$154 million Maryland-based Marriott losses Q2. It's worldwide occupancy was down to 11 percent. One of many examples in the industry.
MOVIE THEATER
AMC, largest U.S. chain revenue loss in Q2
99% Not only did theaters close during the worst quarter since 1920, but big studios also put major projects on hold.
RESTAURANTS
Sizzler and Chuck E. Cheese filed bankruptcy; Olive Garden's revenue dropped 43 percent.
$165 billion lost restaurant sales in March through July with 8 million workers furloughed.
HOUSES OF WORSHIP and associated schools
150 U.S. Catholic schools shuttered due to financial pressures from C19. Even while, against the Constitution, church closings are causing financial, emotional and operational hardship.
GOOGLE
holds 87 percent of U.S. search engine market share nationally
2% decrease in Google ad sales in Q2. Google's first ever fall as advertisers pull back on budgets.