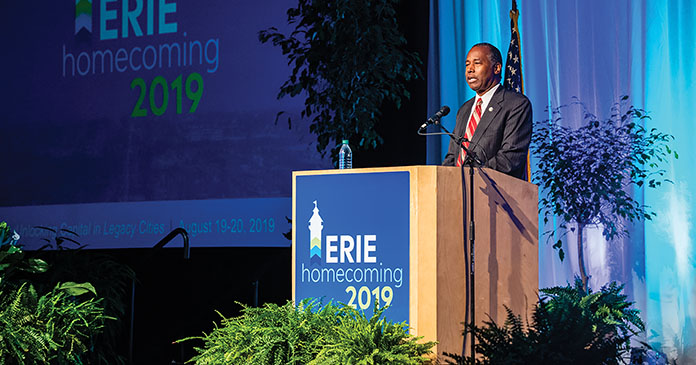 Investments into one of the nation's poorest zip codes in the Rust Belt are fueling an historic preservation and mixed-use redevelopment project on three blocks in Erie, Pa.'s downtown core, setting a national standard for attracting capital to Opportunity Zones (OZs)—a provision in the 2017 Tax Cuts and Job Acts created to incentivize investment in low-income census tracts.
Erie already was seeing improvements through public-private investment in efforts to restore some of the former manufacturing hub's luster, but the use of the tax incentive fast-tracked that process by decades.
The developer is the Erie Downtown Development Corp. (EDDC), formed in 2017 by a group of local community leaders, private sector CEOs and philanthropists.
Comprising 477,000 sq. ft. of retail space, 100,000 sq. ft. of commercial space and 150 apartments, the project is on track for completion in January 2023, despite the pandemic that reduced apartment development activity in the U.S. by 12 percent as of August.
The project's multifamily portion is a mix of studio and one-bedroom market-rate apartments with rents from $650 to $750 for studios, $1,100 to $1,300 for one-bedrooms and $1,500 to $1,850 for two-bedrooms that feature high-end fixtures and in-unit washers and dryers. Residents will be able to take advantage of the shops, food establishments and cultural amenities of Erie's soon-to-be-revitalized central business district (CBD).
A survey by the Master Card Center for Inclusive Growth identified that 95 percent of existing housing in Erie's CBD is affordable, highlighting the demand for market-rate housing to serve the people who already work in the area and commute to and from work.
Now under construction are 42 apartments—15 above a full-service grocery and butcher shop and 13 above a Food Hall that will accommodate local food vendors and seat 160 patrons. Another 14 will be located in a separate building with ground-floor commercial space.
This project's first tranche is slated for completion in Q1 and Q2 2021.
Shock the market
Similar to other post-industrial cities throughout the Northeast and Midwest, Erie's population has been declining for decades, resulting in a downtown core rife with empty, abandoned and underutilized buildings.
Following the recommendation of Erie's 2016 comprehensive plan, the EDDC put together a redevelopment guideline modeled after a 20-year-old plan that was used to successfully redevelop Cincinnati, Ohio. Erie city leaders visited Cincinnati and returned with lessons.
"They learned that renovations must start in the downtown core, that investments must be clustered on contiguous parcels to showcase their impact and spark market confidence and momentum, that a new developer entity outside of government is needed to apply for available tax credits, grants and loans and, finally, that private capital is necessary to make it happen in a soft market," said John Persinger, an Erie-based attorney hired in 2018 to serve as CEO of the EDDC.
The EDDC organized the project's first at-risk capital with more than $27 million in local gap financing pledged to a separate private equity fund called The Erie Downtown Equity Fund. This was after realizing no government or third-party developer would be willing to help revitalize the CBD. That initial seed money also served to de-risk future investments.
Before hiring Persinger and fellow attorney Matt Wachter, who has a tax and finance background and serves as VP of Finance and Development, the EDDC paid for a market feasibility study and drafted a revitalization plan targeting low-hanging fruit to build up market confidence.
Persinger and Wachter determined the pursuit of traditional economic development tools would take too long to save a city that was losing more of its tax base each year.
"We needed to shock the market to life quickly. We also realized that, while $27 million is a great start, we would need $100 million to $150 million to accomplish our goal," said Persinger.
Meanwhile, Wachter had become aware of the OZ provision while still practicing tax law and prior to the signing of Trump's tax bill.
"He was the first person in the region to notice the OZ provision in the tax bill that we saw as the missing puzzle piece to our revitalization plans," said Persinger.
"Unlike government programs that are neither user friendly nor efficient, the federal OZ is an incentive that rewards our creativity and marketing savvy and allows us to harness the power of the free market to find investors with the right risk tolerance and investment strategy," he said.
But it's one thing to identify the OZs and another to have shovel-ready projects for investors to pour money into, especially since the tax incentive has improvement and time requirements, although the investment timeline has been extended due to the pandemic.
Persinger and Wachter spent their first year with the EDDC acquiring 12 properties across three blocks in the CBD and simultaneously worked through the financial plans for those parcels so they could be marketed to investors.
Erie was the first city to issue a prospectus detailing investment opportunities in its eight governor-designated OZs, collectively known as the Pennsylvania Flagship Opportunity Zone. Also the focus of Erie's economic development initiative—the Erie Refocused Plan—had previously generated $750 million in ongoing investment. Erie's OZs include its waterfront, CBD and a few of its historic and current manufacturing areas.
OZ investors are incentivized by the deferral of taxes on capital gains for eight years from the time the bill was enacted, a 15 percent basis step-up on previously earned capital gains invested at the end of the eight years, and a permanent exclusion of taxable income on gain of asset value if the investment is held for at least 10 years.
There are around 8,700 OZs across the U.S. Many have fallen under the scrutiny of critics who claim the tax incentive has been lucrative for speculators, investors and gentrifiers, but has done little for those it was created to help.
However, the EDDC's project was hailed by the White House and HUD secretary Ben Carson as a bellwether for attracting investment and a prime example of how an OZ is working for investors, the city and the 27 percent of Erie's residents who live below the federal poverty level.
Erie also was recognized as a winner in the Forbes OZ 20 Catalyst Challenge, a contest created by a partnership of Forbes, Inc. and the Sorenson Impact Center to illuminate people who are using OZs for community impact and inclusive capitalism. The project won the title of top urban development, one of the contest's four categories.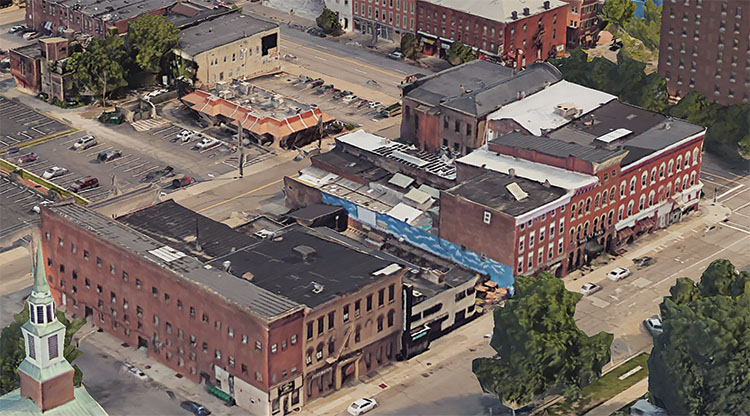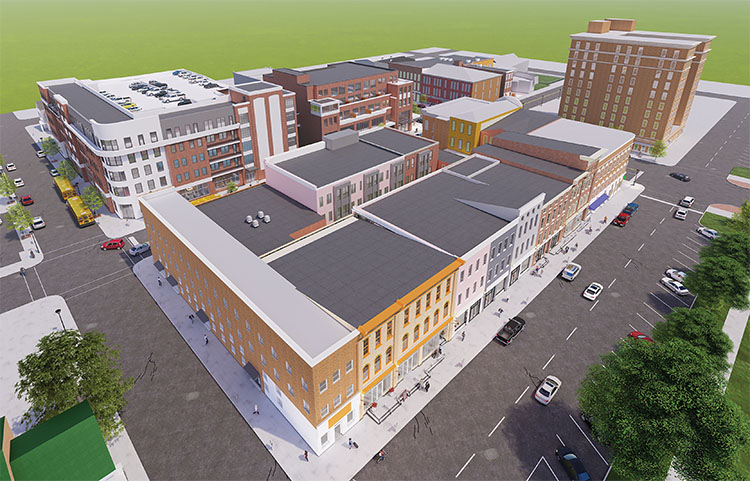 Shoring up investments
The EDDC's hard work on its first OZ project paid off. "We have hard-circled $100 million and are full steam ahead on development," said Wachter.
Boston-based Arctaris Impact Investors made a public commitment to invest $40M in Erie, including $30M for the EDDC. Erie Insurance, an EDDC sponsor and local homegrown Fortune 500 company, has raised $50M of qualified opportunity funds to invest in Erie OZs.
Because OZs allow for investment in real estate and businesses, a number of new businesses are relocating and investing in the city. Erie Insurance and locally-based Plastek Group invested $9 million into a $100 million state-of-the art recycling center by International Recycling Group. Separately, Erie Insurance has committed $6.5 million to the EDDC and $1.2 million to Whitehorn Digital, a video game creator.
A full-service grocery store and food hall on the former manufacturing site of Dr. Carter's Little Liver Pills is receiving $11.5 million in funding and will be completed in May 2021.
Erie's food hall takes the concept of mall food courts that typically group together fast food establishments and offers those spaces to local vendors.
Erie's food hall will include an artisanal pizza maker, a group offering healthy salads and wraps, an artisanal Mexican food concern, and a local food and beverage company that offers desserts and is the only organization with a license to sell Penn State's ice cream made on its campus.
A Syrian immigrant who operates a food truck—not ideal when Erie gets 200 inches of snow—will be bringing his culinary creations into the food hall.
Another vendor is a local woman in her early 30s who was once homeless at age 17. The same woman went to culinary school and later worked at a neighborhood center in gratitude to the director who had let her stay there. She built a catering business and developed a following. The food hall will be home to her first establishment offering a fusion of sea and soul food.
An Erie Insurance employee who, because she could never find a good healthy smoothie, spent two years developing smoothies and fruit and veggie dishes will also set up shop in the food hall.
A total of nine vendors were chosen from 12 applicants who applied through a public ZOOM process during COVID lockdown and followed up with live tastings. The EDDC considers them the litmus test for the health and vibrancy of Erie's downtown.
Wachter explained the difficulties of starting a restaurant. "Banks run the other way and if you are new to the industry or without an existing banking relationship, it's impossible. So, we're paying for the buildout and supplying the needed equipment, saying, 'If you are successful, we are successful,' while adopting a royalty-based model where they pay a percentage of their sales to the project. We're giving these local vendors the opportunity to start a business during the COVID challenge with zero capital down in a win-win scenario for the project and the community," he said.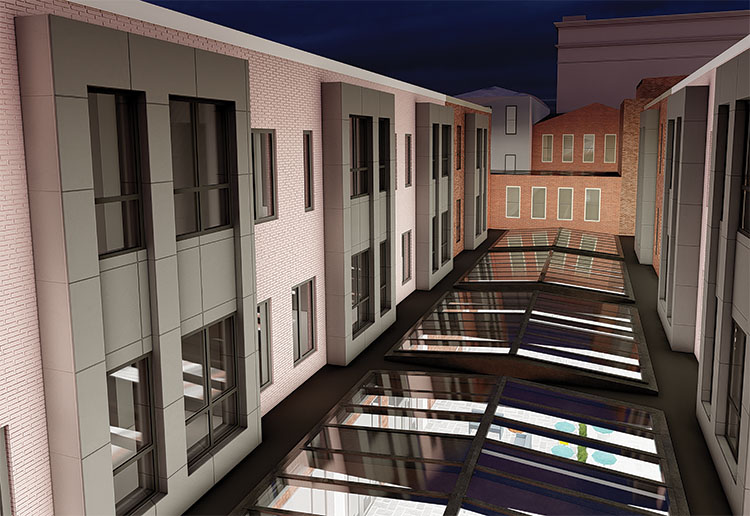 Preserving history
Many of the buildings in the project are historic and the EDDC expects to utilize state historic tax credits and federal historic tax credits that are paid out over five-years.
"Wachter explained, "We acquired 50 years of deferred maintenance and neglect in some instances. We're competing for outside dollars in a third- or fourth-tier market that most investors are not even familiar with—an area where you can buy a property for $1 million, invest $1 million into it and still have it appraise for only $1 million. We needed to be bold to find the right investors with the right risk tolerance and investment strategy. So, we capitalized on the OZs, marketed the area aggressively and created financial models we could show investors," said Persinger.
Wachter said the recent approval of the Local Economic Revitalization Tax Assistance program that will provide 10-year, 100-percent tax abatements on city and county taxes for improvements made to commercial and residential properties will be key to helping the project move ahead.
Today, the businesses only pay about $176,185 in local property taxes to the city, county and school district, all of which are supported by a shrinking tax base.
But once the EDDC finishes leveraging the federal tax incentive and the 10-year local tax abatement comes to fruition, the businesses will pay more than $2.2 million a year in local real estate property taxes.
"That's going to have a huge impact on the local community and is creating the conditions to allow other investments in the future," he said.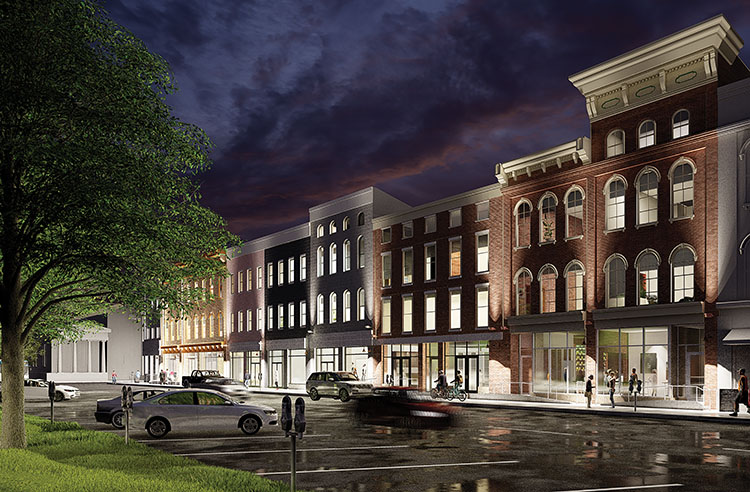 Facing challenges
The list of challenges to revitalizing Pennsylvania's third largest city is topped by the sheer economics of the undertaking—including finding the funds to bridge the financing gap and the properties' many infrastructure issues, explained Persinger.
Wachter continued, "The buildings are old and suffering from deferred maintenance and there is no electrical service. It will cost $220,000 to $1 million to purchase the transformers to bring electricity to the CBD. Moreover, only 35 percent of the downtown residents have internet service. The commonwealth is paying to improve the sidewalks so the internet provider can lay fiber to the buildings and then into the units.
Persinger said another major challenge is purely psychological—that of addressing concerns that aren't appropriate for the community, like gentrification.
Wachter elaborated, "The term 'gentrification,' and its negative context, is based on a narrative for places like San Francisco, Brooklyn, N.Y., and Washington D.C.—all flush with capital and rapidly rebuilt and redeveloped. Erie is not the same. We need a new vernacular for largely vacant Rust Belt communities in dire need of investment, a new narrative to explain how a legacy community can prosper once again and investment can be a net positive for everyone, not just the few."
---
Author Wendy Broffman