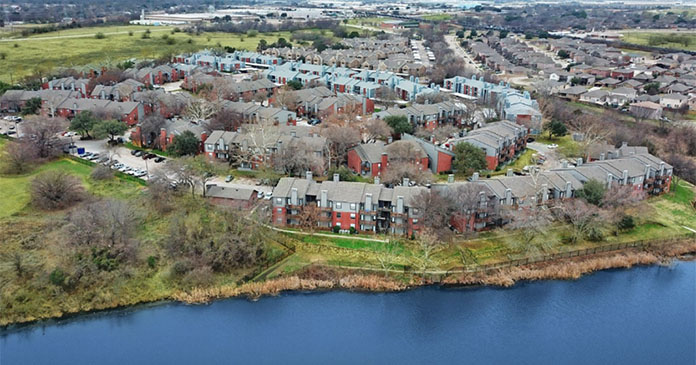 Levin Johnston of Marcus and Millichap, one of the top multifamily brokerage teams in the U.S. specializing in wealth management through commercial real estate investments, has directed the acquisition of Spring Lake Apartments, a 380-unit multifamily property situated on nearly 18 acres in Haltom City, Texas, located just minutes from Downtown Fort Worth.
Executive Managing Director Adam Levin, Senior Managing Director Robert Johnston and Investment Associate Eymon Binesh represented the buyer, a California-based private investor, in the acquisition.
"While Bay Area multifamily remains one of the best investments, diversifying into different regions when it makes sense for the Clients' long-term wealth management goals is where we thrive," explains Levin. "In this case, we were able to source an exceptional largescale apartment community for an attractive price in the Dallas/Fort Worth region, which is experiencing strong growth and some of the highest leasing activity in the country."
Because there is less construction in the pipeline in Fort Worth submarkets compared to other areas of the metro, assets like Spring Lake Apartments are extremely well positioned to benefit from economic expansion, Levin notes
Johnston adds that the transaction was a rare opportunity for the buyer to expand his portfolio in a desirable market outside of California with minimal deferred maintenance.
The community is ideally situated near several shopping, dining, and entertainment options. North East Mall, which is located four miles east of the property, offers residents more than 1.7 million square feet of retail and is anchored by Nordstrom, Macy's, Dillard's, and Dick's Sporting Goods. The property is also in close proximity to Tarrant County College, the sixth largest college in Texas in terms of enrollment, as well as Dallas/Fort Worth International Airport, which supports approximately 228,000 full-time employees.
"Spring Lake Apartments is situated near several major employers, up-and-coming residential neighborhoods, and planned commercial developments which are expected to further drive resident demand in the immediate area," says Johnston.
The apartment community, which offers an attractive mix of one-bedroom/one-bathroom and two-bedroom/two-bathroom units, was built in 1985 and strategically upgraded by the seller in 2017 through interior and exterior renovations.
"The property recently underwent nearly $3 million in capital improvements to modernize the look of the community, as well as providing residents with in-demand amenities including a park with pet care stations, a lakeside dock, and stainless steel grills, ultimately making this a turnkey property," continues Levin.
The unit amenities at Spring Lake Apartments include hardwood flooring, stainless steel appliances, walk-in closets, private balconies with patios and lakefront views.
Spring Lake Apartments is located at 5301 Springlake Parkway in Haltom City, Texas.
Levin Johnston also recently directed eight multifamily transactions in the Bay Area, bringing its total transaction volume in Q3 to nearly $72 million, demonstrating continued health in the commercial real estate market for this region.
The recent Bay Area transactions include:
$13.1 Million Sale of Metro 348 Apartments in San Leandro, California
$5.43 Million Sale of 1459 Gordon Street in Redwood City, California
$5.1 Million Sale of 3615 35th Avenue in Oakland, California
$2.76 Million Sale of 11 Arch Street in Redwood City, California
$1.93 Million Sale of 392 Callan Avenue in San Leandro, California
$1.65 Million Sale of 37518 Wilburn Place in Fremont, California
$1.4 Million Sale of 2707 Marlborough Avenue in Redwood City, California
$1.35 Million Sale of North 6th Street in San Jose, California