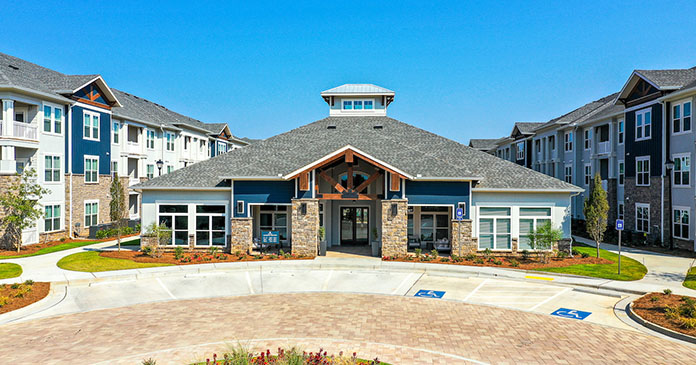 Joint venture partners PointOne Holdings, Batson-Cook Development Company, and Novare Group have sold Promenade at Newnan Crossing, a 298-unit apartment community with a mix of three-story buildings, "manor-style" rental homes and for-rent townhomes on approximately 24.3 acres in Newnan, Georgia.
The multifamily community was sold to Capital Square 1031, a leading sponsor of Delaware statutory trust offerings for Section 1031 exchange and other accredited investors.
The development, which sold for $65.8 million, is part of a 123-acre mixed-use master development that will provide the property's residents with a truly walkable, interconnected community containing an exciting mixture of retail, office, restaurant and residential space. The LINC, a 25.5 mile multi-use pedestrian pathway connecting the entertainment and commerce hubs of Newnan, runs adjacent to the apartment community.
With a working age population of more than 3.7 million people within a 45-minute drive, Promenade at Newnan Crossing is a well-located multifamily project by an experienced team. The location offers direct access to the interstate corridor as well as convenient access to healthcare industry jobs, including the 360,000 square foot Piedmont Newnan Hospital and Cancer Treatment Centers of America.
"We are extremely proud to have successfully come full circle with this development," said Ben Colonomos, PointOne Holdings' Managing Partner. "The joint venture partnership with the help of RAM Partners outperformed its operational goals throughout the lease-up period notwithstanding the limitations set by Covid-19."
"Promenade at Newnan Crossing Apartments is another example of a successful execution by PointOne Holdings following our strategy to sell our older vintage value-add properties and pivot to developing well located garden-style, class-A, multifamily properties in major market suburbs " said Leo Peicher, PointOne Holdings' Managing Partner.
"Novare Group would like to thank our partners PointOne Holdings and Batson-Cook Development Company for supporting this project and the City of Newnan for the opportunity to develop it," said Jim Borders, President and CEO, Novare Group. "This was a successful project for our joint venture and our company, and it is a residential community that will serve Newnan and Coweta County well for generations."
The property was marketed and sold by David Gutting of Newmark Knight Frank. "Owing to its superb location, high-barriers to entry, and overall execution of development that blended a differentiated site plan and unique architecture, Promenade was one of the most successful lease-ups I have seen in Atlanta" said David Gutting, Vice Chairman of Newmark Knight Frank Multifamily Investment Sales.
The community was designed by Humphreys and Partners Architects, L.P. and Kimley-Horn and Associates, Inc. civil engineers and constructed by Hathaway Construction Services, Inc.  The construction lender for the project was NXT Capital.