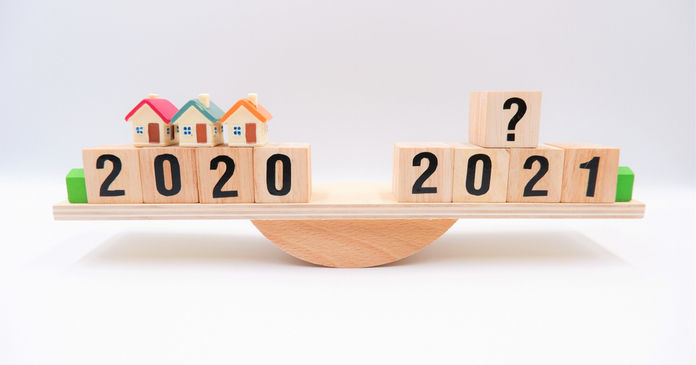 The Urban Land Institute (ULI) recently held their Virtual Fall Meeting. One of the many sessions presented there discussed the state of, and the prospects for, the housing industry. The presentation took the form of a panel discussion. Panelists included Connie Emmitt-Stern, EVP Investments at The Resmark Companies, Mary Ann King, Co-Chairman at Moran & Company and Dionne Nelson, President and CEO of Laurel Street Residential. Timothy Naughton, Chairman and CEO of AvalonBay Communities, Inc. acted as Moderator.
Assessing where we are
King, whose company is active in the apartment market, discussed the seeming contradiction between weakening operational fundamentals of apartments, compared with continued price strength in the market for apartment buildings. She said that one of the reasons for this apparent dichotomy is that the apartment buildings that are changing hands are largely in the markets that have been least affected by COVID, primarily secondary and suburban markets. Buildings in the downtown markets where operational fundamentals have been more seriously impacted are not trading hands. King cited low interest rates as being a second factor supporting the prices of apartment buildings. She said, "The weakness in operating fundamentals has been offset by the best debt in our lifetimes." The third factor King identified as supporting apartment values is cap rate compression, particularly in the relatively strong suburban markets. Not only are current apartment operators continuing to be active investors in these markets, but capital that might otherwise have been directed to investments in retail or hospitality has been redirected to apartments, resulting in lower cap rates.
Nelson, whose portfolio consists primarily of rental housing targeted at low to middle-income renters, said that her operations are performing much better than she would have anticipated given that the impacts of the pandemic have fallen most heavily on her residents. She attributes this to a high level of subsidy in the market, both from the Federal government but also from local governments. She said that the greatest impact of the pandemic on corporate operations has been in the slowdown in new construction starts and the rise in construction costs. She has also seen a softening in the interest of investors. Tax credit investors are questioning the level of income they will have in the future and are therefore also questioning the value of tax credits to them. This has caused a decrease in what investors are willing to pay for tax credits.
Emmitt-Stern, whose company is active in the single-family housing sector, said that the fundamentals of the for-sale market were strong leading into the pandemic. In response to the shutdowns, new sales stalled in the mid-March through April time frame but she found that buyers who had contracted for the purchase of a home did not walk away from their purchases during that period. Since May, with mortgage interest rates even lower than they were early in the year, sales have been strong and inventories have been tight. This is especially true for attainably priced homes in Sun-Belt markets.
Looking ahead
King said that she expects operating fundamentals to recover in the year ahead, especially in the suburban and mountain areas. Urban areas will likely recover more slowly both because they were impacted more heavily by the reaction to the pandemic, but also because there is a lot of new supply in the pipeline that will be coming to those markets in the next year. She thinks that apartment building sales transaction activity will rebound as soon as the investment market feels that we have hit bottom. While transaction activity has been down 70 percent since COVID, once investors believe that the recovery has begun, she expects transaction volume to pick up and to spread to geographical regions where there is currently little activity. However, she does not expect transaction volume to return to 2019 levels until after 2021.
Nelson said that some of the new product that her company will be introducing in 2021 will be product that was originally targeted for 2020 but was delayed by COVID. While financing for new projects has become more difficult to arrange in the short term, she expects that things will start to return to a more normal situation in 2021, although it may be some time before things return to their pre-COVID levels. In terms of underwriting, she has seen investors push for greater operating reserves and other changes, to create a buffer in the pro forma to give them a cushion in the event that something goes wrong.
Considering the for-sale market, Emmitt-Stern said that the Fed's stated intention to keep interest rates low for an extended period should result in continued price appreciation. At the same time, costs are going up so margins are not necessarily increasing. She suggests that market participants should focus on underwriting and remaining disciplined. She expects that starts in 2021 will increase from their depressed levels in 2020 and may exceed their 2019 levels.
Possible long-term trends
Nelson said that there is now broader nation-wide recognition that housing affordability is a problem. She thinks that this may lead to more openness to using things like housing bonds to provide direct subsidies and support for affordable housing. Given past bipartisan support for housing tax credit programs, she thinks that extensions of, or modifications to, these programs in order to support more low-income housing is a possibility. She believes that inclusionary zoning legislation is a long shot. She expects that the pressure of revenue losses for state and local governments may limit their ability to directly support housing but thinks that private capital funneled through "social impact investing" may make up for this loss, especially in large cities.
COVID has driven apartment operators to support digital tools like virtual tours and on-line leasing. King said that this "self-service" model is here to stay, at least as an option. Apartment managers are looking at every touch point between a resident and his property and seeking to provide a digital way to perform the interaction.
In response to a question as to whether master-planned communities would be making a comeback, Emmitt-Stern said that capital providers were not looking for projects with such a long time horizon. However, she said that "mini-planned" communities were an attractive option. She described a single-family rental community that her company built outside of Fresno that leased up in 6 months.
Discounted prices for ULI meetings are available to ULI members. More information on the Virtual Fall Meeting can be found here. Information on the Urban Land Institute can be found here.