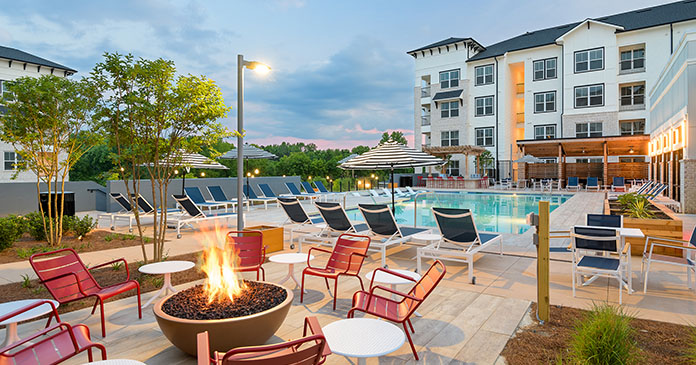 Cushman & Wakefield has arranged the $68.2 million sale of The Eddy at Riverview Landing, a 310-unit apartment community located in Smyrna, Georgia, part of Metro Atlanta. Robert Stickel, Alex Brown and Ashlyn Warren of Cushman & Wakefield represented the seller, Prestwick Companies, in the transaction. JEM Holdings, a New York-based real estate investment management company, acquired the newly developed multifamily asset which is currently in lease-up.
"There are very few places in metro Atlanta to live and play on the Chattahoochee River," said Chuck Young, partner and EVP Prestwick Development Company. "We're very proud of what we've created here at Riverview Landing and could not have accomplished what we have here without the City of Smyrna, our debt and equity partners, First Horizon Bank & Palatine Capital Partners, and our contractor, Prestwick Construction."
The Eddy at Riverview Landing is positioned within a sustainably minded mixed-use development along the Chattahoochee River. The Eddy offers a riverfront setting with master plans for acres of surrounding trails and parks, complementing the on-site retail, which includes Reformation Brewery, Chattahoochee Coffee Company and Grand Champion BBQ. The property has offered limited concessions throughout lease-up, providing a firm foundation for effective rent growth post-stabilization.
"The acquisition of The Eddy provided an opportunity for us to utilize 1031 benefits while acquiring a beautifully constructed, core asset at a pre-stabilized valuation," said Mikael J. Levey, Chief Executive Officer and Founder of JEM Holdings. "We are excited to continue where Prestwick left off in leasing up the property and to provide our investors with superior risk adjusted returns."
"Prestwick had the vision and opportunity to develop Atlanta's first multifamily assets along the Chattahoochee River in the last 40 years," Stickel said. "The Eddy at Riverview Landing provides a unique lifestyle for residents with its thoughtful amenities, including curated eateries. The place-making and natural setting are especially rare to find inside 285. We continue to see capital attracted to Atlanta with both population and job growth providing a strong story for the future."
Amenities include a fitness center, yoga room, community gardens, a dock with a boat launch, on-site bike storage, outdoor kitchens with Big Green Egg smokers, dog park, pet wash, a resident lounge and a resort-style saltwater pool.
"The Eddy at Riverview Landing is a quality asset with tremendous upside as it finishes leasing up and becomes an even more desirable destination with continued development in the immediate area," Brown added. "JEM Holdings saw a compelling opportunity to expand their growing portfolio with another newly built asset in a primary market."
Cushman & Wakefield's Sunbelt Multifamily Advisory Group ranks No. 1 in Sunbelt market share based on over 300 transactions and $7.0 billion in multifamily and land investment sales in 2019 (Source: Real Capital Analytics). Market share reflects sales for Alabama, Arkansas, Northwest Florida, Georgia, Kentucky, Louisiana, Mississippi, North Carolina, South Carolina, Tennessee and Texas.