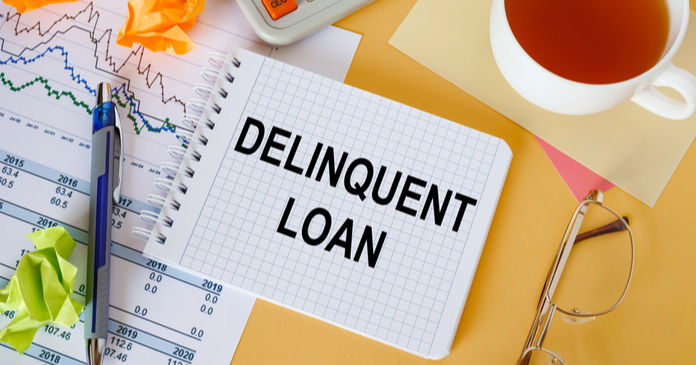 A pair of reports, one from the Mortgage Banker's Association (MBA) and one from Trepp, indicate that the multifamily mortgage market is beginning to recover from the COVID-19 related shutdowns.
Multifamily mortgage lending resumes growth
The first chart, below, shows the quarterly growth rate for both commercial mortgages and for multifamily mortgages as reported by the Mortgage Banker's Association. It plots a pair of indexes of mortgage origination volumes where the average rates of originations in 2001 are set to 100.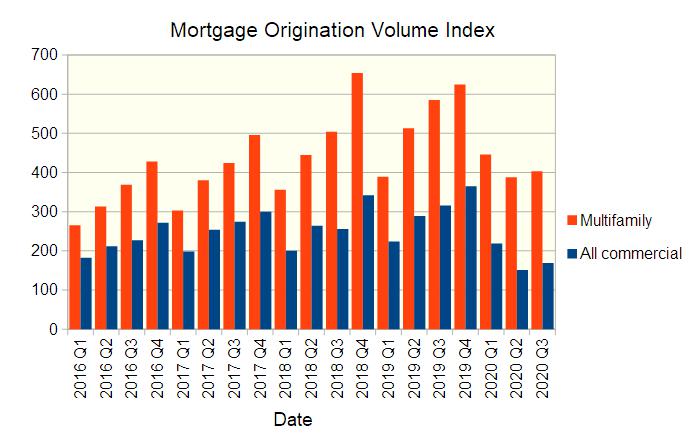 The pattern for the last several years was for the rate of mortgage originations to rise throughout the year and then to drop back down in the first quarter of the next year. The pattern seemed to be repeating again this year, with the multifamily mortgage volume in Q1 2020 dropping 29 percent from Q4 2019, but rising 15 percent from the level in Q1 2019. However, after COVID-19 hit in March, instead of rising, multifamily mortgage origination volume in Q2 dropped 13 percent from Q1 levels. The equivalent drop for commercial mortgages as a whole was 31 percent.
Multifamily mortgage origination volume rose 4 percent in Q3 2020 from Q2, although it was down 47 percent from the volume in Q3 2019. While this is significantly lower than the Q2 to Q3 growth rates seen in the last several years, it still shows positive growth.
Delinquency rates plateau
A recent report from Trepp tracks the delinquency rate on commercial mortgages, including multifamily mortgages. This is shown in the next chart, below.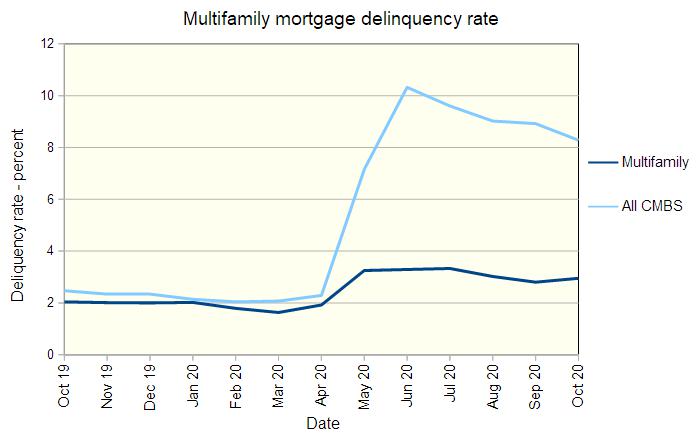 The chart shows that the delinquency rate for all commercial mortgage backed securities took a leap after the COVID-19 related disruptions to the economy. The delinquency rate for multifamily mortgages also rose, but not nearly to the same degree. The delinquency rate for multifamily mortgages rose from around 2 percent early in the year and peaked at 3.3 percent in July. The average delinquency rate for all CMBS rose from around 2.3 percent early in the year, peaking at around 10.3 percent in July. The highest delinquency rate for the sub-classes of CBMS was 24.3 percent in June for commercial mortgages on lodging.
Loans for which the lender has granted forbearance are not included in the totals for delinquencies.
While the commercial property mortgage market is still far from operating at its pre-COVID level, these recent reports show signs that it is slowly healing.
The report from the MBA can be found here. The report from Trepp can be found here.