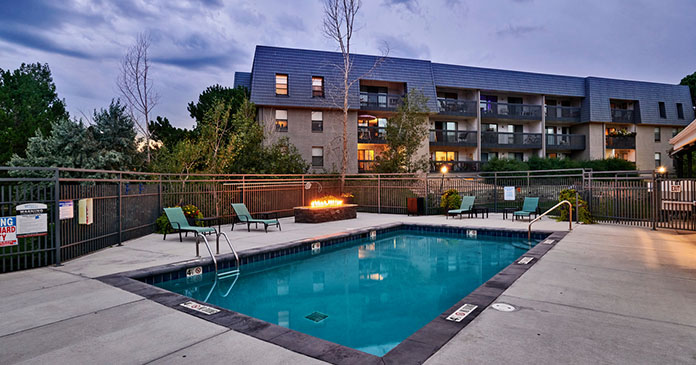 Oak Coast Properties announced the $54.5 million acquisition of Retreat at Water's Edge, a 252-unit apartment community located in Denver. The most recent transaction in the firm's heightened multifamily investment activity, the acquisition also demonstrates Oak Coast Properties' focus on the Denver metropolitan region where demand continues to surge for quality housing options. In a strategic value-add move, the company is planning to invest $2.2 million in renovations aimed at improving the marketability of both units and amenities. The purchase comes directly on the heels of the October $123.5 million acquisition of ArtWalk Apartments at City Center, a multifamily asset also located in metro Denver.
"Retreat at Water's Edge is an ideal purchase for us as it's a quality-built community with significant CapEx improvements made to it by the previous owner," says Phil Nahas, managing partner with Oak Coast Properties. "The apartments are extremely well located and, once our additional improvements are made, the community will be even more attractive to renters in the area."
Retreat at Water's Edge is ideally situated southeast of Downtown Denver, near Cherry Creek Reservoir and State Park. Just blocks from the community lie the Highline Canal Trail and the Cherry Creek Trail, which are part of Denver's 850-mile trail system. The community is also notably located less than ten minutes from Denver's largest employment hub, the Denver Tech Center (DTC), which hosts approximately 197,500 workers and five of Colorado's eleven Fortune 500 companies. Numerous retail amenities lie close by, including the Tamarac Shopping Center, the Belleview Promenade and the Village Shops at the Landmark.
Originally built in 1985, the apartments average 752 square feet and are situated within 6 buildings over underground parking. The community features a robust suite of shared amenities including package delivery lockers, a business center and community room, outdoor pool and spa, clubhouse and water features, among others.
A recent $4.5 million enhancement to the property by the previous owner included exterior paint, a fully renovated fitness center and pool deck, as well as interior renovations to 57 percent of the rental units. The average monthly rent per unit is $1,233, with renovated units achieving a $200 per month rent premium. Numerous opportunities remain for Oak Coast Properties to further improve the property for return-on-investment including enhancements to all remaining non-renovated units as well as elevator repair work, landscaping, parking lot fixes, and the addition of a pet washing station. These upgrades will be made as part of Oak Coast Properties' investment plan.
JLL Capital Markets, a full-service global provider of capital solutions for real estate investors and occupiers, arranged a Freddie Mac Optigo loan in the amount of approximately $38.15 million on behalf of Oak Coast Properties for the acquisition. Financing was led by senior managing director Charles Halladay, senior director Brock Yaffe, director Rick Salinas, and analyst Matt Cimino.
Terrance Hunt and Shane Ozment, vice chairmen with Newmark represented the seller, Griffis Blessing, in the transaction.
"Griffis Blessing did a phenomenal job renovating about 50 percent of the community and all of the amenities," says Shane Ozment, "With Griffis Blessing's investment upfront, the Oak Coast Properties will be able to continue the proven in-unit value-add program and drive yield with every additional dollar spent."
Echelon Property Group, one of Colorado's leading apartment management companies, will manage the community.